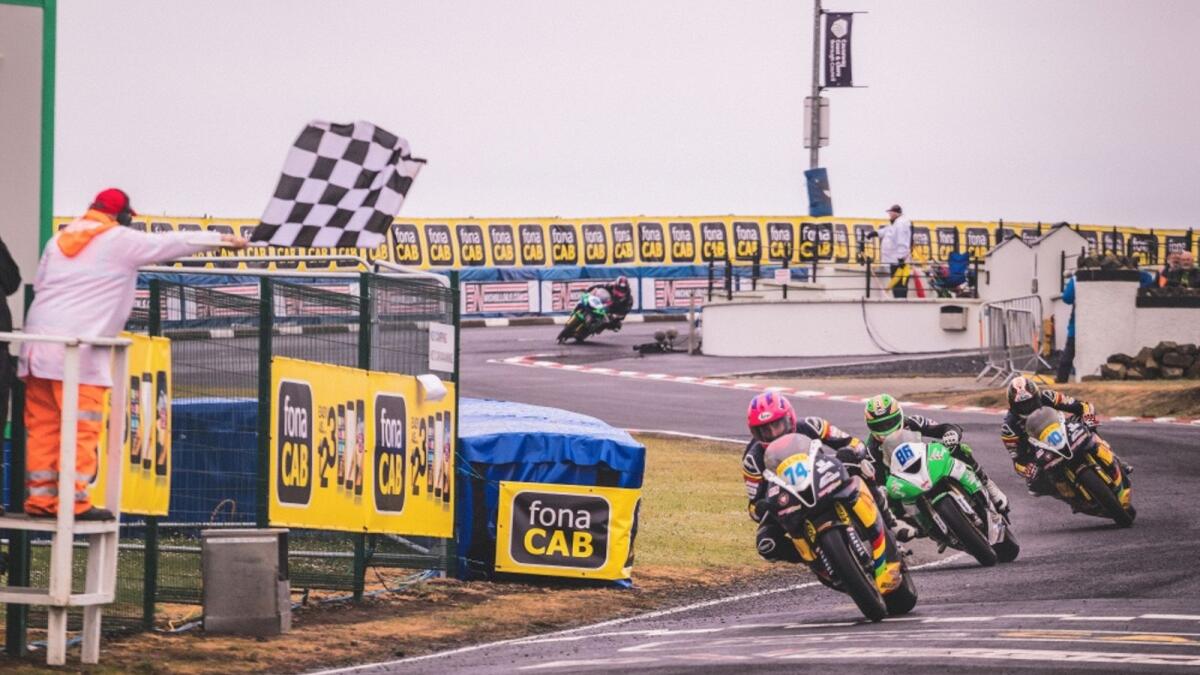 McGee records first podium at NW200
PHOTO - Derek McGee finishing second in race one at the International NW200 on Saturday, the supersports, behind Davey Todd, and in front of Conor Cummins. Photo: Paul Lavery; laveryphotography.com
It's just as well Derek McGee "doesn't really mind the wet", because that's what he had to deal with at the International NW200 at the weekend.
Following competitive runs in the practice and qualifying sessions last Tuesday and Thursday, Derek finished second in the Supersport race on Saturday, a very wet race day.
"Conditions were far from ideal, but I don't really mind the wet," he said on Monday. "I wanted to stay out of trouble, especially with the run-up to the TT, which is the big one for us.
"So I just kept it smart in the race and didn't take chances. I was going to make a lunge for the lead on the last lap, but I said I'd sit back and just bring her home, and be happy with the podium."
Derek had been to the NW200 just twice before, in 2015 and last year, when he did just one race, finishing 10th.
As a result, he lacked experience on the nine-mile course compared to most of his competitors, so taking a second place at an event that draws the world's best road riders confirms how his racecraft has progressed.
"When you're in that depth of field, I'm just delighted to be able to run with them boys," said Derek.
Explaining how the week had gone, Derek said that he had a good run in supersport qualifying in the dry: "In the first session we had a few little issues. We hadn't ridden a 600 there since 2015, and now it's a different bike, so it was basically setup and finding our way around.
"We went out behind Lee Johnston and got a bit of a tow off him and went eight seconds a lap quicker than we had on Tuesday, a massive step. I was a second and a half off pole, which around there wouldn't be big because you have a long lap – you'd be looking at maybe fourth tenths of a second on a national track.
"We ended up fifth overall that day so we dropped back a little bit, but I only did four laps, so I was happy enough with my time."
Derek didn't use the superbike at the NW, and instead chose to be cautious given the track conditions. He said: "We'd just done the supersport race, and I thought we had too much to lose, a little slip off, or something would happen, and the TT is a big three weeks for us.
"As a team, we discussed it and thought I might be better off to sit it out, even though I like those conditions... if someone else went down in front of me or something silly happened, I couldn't chance it."
Derek set fastest time for the supertwins race on Thursday evening but had to retire as a faulty clutch was causing the rear wheel to lock up. He had been leading and was unfortunate to get a penalty when he had to use an escape road, and didn't stop to put his foot down, as the rules require.
"I dropped a position and I thought that would be enough that they would say 'he didn't gain time' but they gave me a penalty," he said.
"Then, at the end of the race I had another moment when the back locked up and it threw me out on the kerbs."
Derek pulled out of the race at that point, and though they replaced the faulty clutch for Saturday, he chose not to race.
He is on the Isle of Man this week, preparing for the TT races, having travelled straight from the NW.
The team is preparing the bikes for the first run on Saturday, when he is hoping for two laps on each of the supertwins and supersports. The big bikes get their first runs next Monday.