Gaelscoil moving day this weekend
Image 1 of 3
Image 2 of 3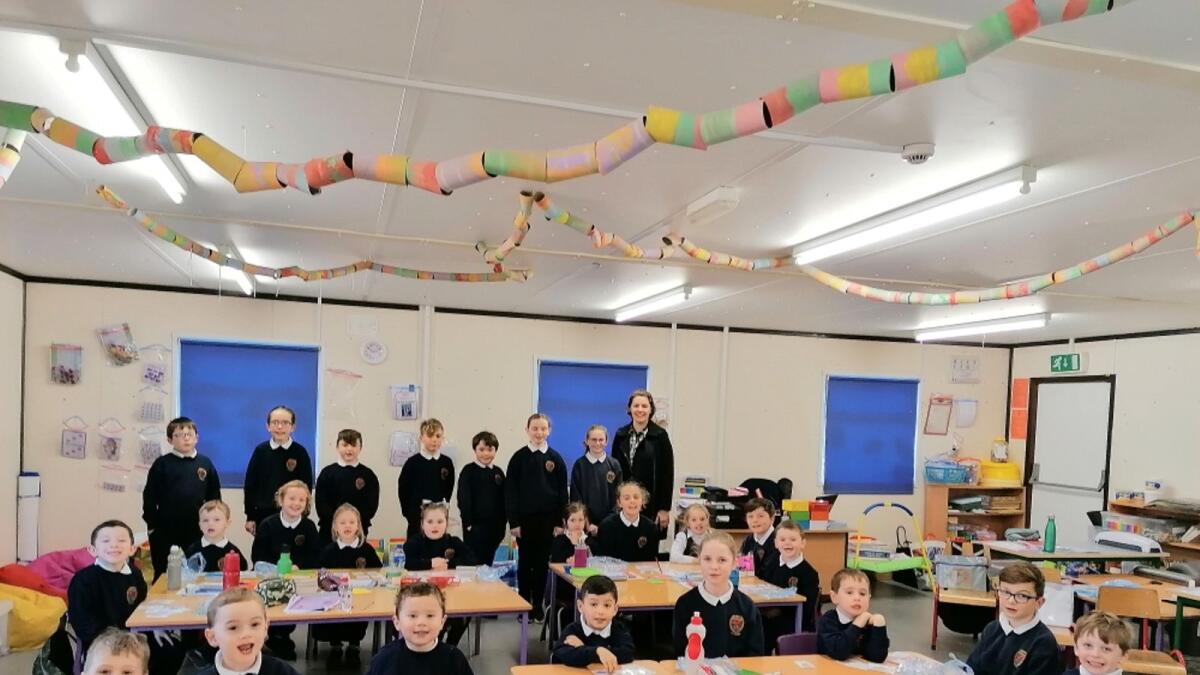 Image 3 of 3
Previous
Next
Two new primary schools are set to open this week as Gaelscoil an Choillín and Saplings move in to the new shared campus on the Lynn Road, Mullingar this Friday December 6.
JJ Rhatigan was the main contractor on the €10.4 million build, part of the DoES Rapid Build Schools Programme 2018-2019.
It included the design and build of two new primary schools with a total combined floor area of 3150m², shared vehicular access and set-down area.
Excitement was building at Gaelscoil an Choillín last week when Lorraine Ní Sceallaigh, Príomhoide na Scoile, sat down with the Westmeath Examiner to talk about their 13-year journey to get to this point.
"We had our final handover recently and I was just so impressed with the contractor, JJ Rhatigan Construction. They have thought of everything, as has indeed, the architect Healy Partners," said Lorraine.
Listing the modern facilities on the new campus, including a telecommunications system and emergency exit system with hydraulic windows that open automatically to allow smoke to escape so that the stairwells can remain clear, Lorraine spoke with pride about the rainwater harvesting system which will be used for the sanitary works, and the wet rooms facilities on each floor.
Once open, the new Gaelscoil an Choillín will accommodate 240 children plus staff. It will also mean that the Gaelscoil can accommodate children with special needs.
"What struck me for the first time when I walked through the building was the space! I just think the children here deserve it so much. And when you're in, it feels so cosy," said Lorraine.
"The thing that is lovely really is that the children are devastated to be leaving here. Even with the leaks, and the toilets that don't work, the heating system that breaks down, and a floor that's caving in. But that just shows how hard the staff worked to make this a happy school for the children," said Lorraine.
"Some of the prefabs we are in are 25 and 30 years old because it was only every meant to be temporary. We currently have 85 children in only four rooms. We moved here in September 2006 and we're here for 13 years. It was only ever meant to be temporary, but then 'the crash' happened in 2008 and there was just no money left in the kitty."
A native of Coole, Lorraine has taught at three schools in 22 years, all of them newly founded schools, two Gaelscoils and one Educate Together.
"When you're building a new school, you're really building a new community, and you are asking people to place their trust and faith in you. So for those children and families that stuck it out, I'm just so happy for them."
She recalls that one of their happiest moments in the school was when the name went up over the new Gaelscoil.
"It was just so emotional for the staff, it just struck a chord with us. We've had an emotional journey. We've had fabulous parents here that have really helped us through so much. We have had some very loyal people who stood by us."
In particular the principal thanked school secretary Charmaine Sweeney, and caretaker Tommy Farrell, for their hard work in recent months, as well as teachers Trina Nolan and Triona ní Bhaoill, who have been with the school since the start. Other "crucial cogs in the wheel', are Áine Nic Dhaibheid, former staff and member of the board of management, as well as Fiona Gallagher, who "got the ball rolling" on the site committee, plus parent Des Cawley, former chairperson of the parents association, as well as Siobhán McCarthy, parent and former ancillary staff.
Finally, their work was presented to Deputy Willie Penrose, Minister for Education Ruairí Quinn and Gavin O'Leary, principal officer at the Department of Education, and the path to a new school building officially began.
"From the start, it has been a positive build – the project manager Ronald Regan has been brilliant, as has our link in the Department of Education and senior technical officer, Ciaran Dunne. We have Westmeath County Council to thank for suggesting a three-storey building. Our document controller is Richie Forde and he will assist us with any questions we have as we transition over into the new building."
The three floors accommodate the reception area, library and computer room, the learning support room, junior and senior infant classrooms at ground level. Also at ground level is the general purpose hall which has a kitchen attached and public toilets, accessed through a separate door for use by community groups.
On the first floor there are two more classrooms, housing first class and second class, a staffroom, principal's office and meeting room. On the second floor, four rooms for third, fourth, fifth and sixth classes are located.
"The facilities in the classrooms are excellent. We don't need to bring any storage furniture with us, there is a sliderobe in each room, it creates an airy and spacious feel."
The build, including the groundworks which were extensive, took just over a year.
"Our groundworks were quite unusual because there were underground tanks from the old Penn factory. Those had to be examined, and the decision was made to keep them because in case of the Brosna flood risk – if it floods the tanks will take the water. Also, because it was once the site of a plastics factory, the soil had to be tested and treated accordingly.
"But if you were to exclude the ground works, the walls started going in around March, April this year, and now we're moving in on December 6. So it's quite good going if you consider the contractor had to build two schools on the site, Gaelscoil an Choillín and Saplings."
Lorraine says lots of parents have volunteered to help with the move on December 6, as have former students. On Saturday a removal team moves in at 7am, and they hope to everything finished that day. The new school will be closed on Monday and Tuesday, December 9 and 10, and the children start on December 11.
"We close for Christmas on Friday December 20 and we are going to have our first Christmas carol concert in the Hall that day," said Lorraine.
"I think it's been a huge learning curve for the children. I think they have grown by coming from a developing school, a school that is growing. It has helped them socially. You can see from the children in the older classes, their ability to take on responsibility, their attention to their infants who are coming in, and we are just so, so proud."
• Enrolment Week commences at Gaelscoil an Chuilínn on January 13 – 17.