The MAC Is Back!
The MAC Is Back! Mullingar Arts Centre would like to say a sincere thank you to its patrons, customers, audience members, staff and supporters for their continued support throughout the last couple of months during the Covid-19 lockdown.
It continues to be a challenging and uncertain time for the arts the world but we are looking forward, planning ahead and remaining positive with lots of exciting news.
The centre now has new Covid-19 health and safety guidelines which we have implemented when visiting the centre and what is required from guest on arrival. We are in this together.
In order to ensure the health and safety of our patrons and staff please observe the following:
• Sanitise your hands at the entrance
• Maintain social distancing
• Complete a visitor's form
• Patrons attending a performance in the theatre must wear a face covering.
Thank you for playing your part in the keeping the arts alive.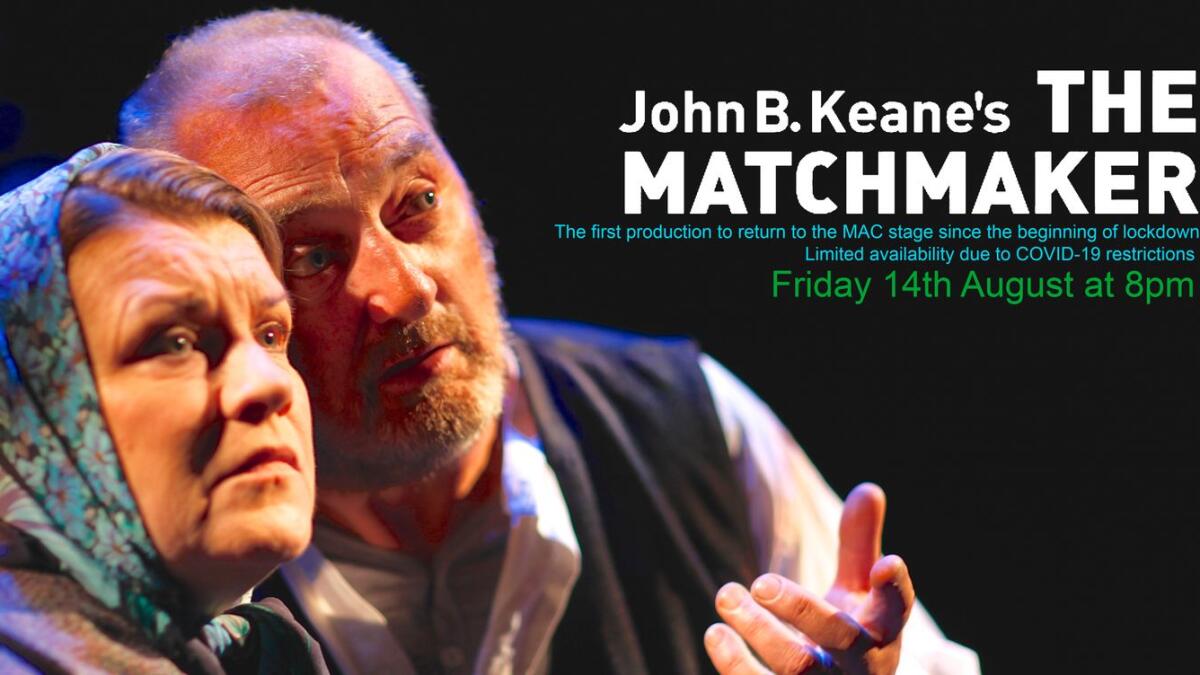 THE MATCHMAKER,
AUGUST 14
The first production to take to the stage since the beginning of lockdown. The performance will take place under the regulations in place for Covid-19 at that time (limited seating due to social distancing).
The Matchmaker by John B Keane, directed by Michael Scott, returns, starring two of Ireland's favourite actors, Mary McEvoy and Jon Kenny. Dicky Mick Dicky O'Connor is going on his holidays to Ballybunion, but before that he's coming back to arrange a few matches for the lost and lovelorn. Keane delves into the longings, hungers, fears and foibles of this collection of lonely people and creates a marvellously colourful world!
Friday August 14, 8pm. Tickets €22.50. Booking: 04493-47777, www.mullingarartscentre.ie. Allocated seating on arrival.
'CHICAGO' BY MULLINGAR STUDENT PLAYERS
SEPTEMBER 2-5 AND SEPTEMBER 9-12
Mullingar Student Players return to the arts centre stage this September with Chicago following the postponement of the show scheduled for April due to the lockdown. The musical with All That Jazz and Razzle Dazzle will feature more than 30 talented young performers. The three leading roles of will be played by: Ellie-Ann Smith as Velma Kelly, Meabh Ryan as Roxie Hart and Eimhin Fitzgerald Doherty as Billy Flynn.
In Roaring 20s Chicago, chorus girl Roxie Hart murders a faithless lover and convinces her hapless husband, Amos, to take the rap, until he finds out he's been duped and turns on Roxie. Convicted and sent to death row, Roxie and another 'Merry Murderess', Velma Kelly, vie for the spotlight and the headlines, ultimately joining forces in search of the American Dream: fame, fortune, and acquittal.
The show will play for eight performances, all with limited capacity due to social distancing and government restrictions in place at the time. Chicago will perform from Wednesday September 2 to Saturday September 5 and Wednesday September 9 to Saturday September 12, all performances at 8pm. All tickets €15.
Tickets can be bought online at www.mullingarartscentre.ie or through the box office on 04493-47777. Due to the new guidelines, patrons will be allocated seats on arrival.
LITTLE BROTHER PRODUCTIONS, 'LAST TANGO IN MULLINGAR', SEPTEMBER 26
In these unusual times, people involved in the arts have had to think outside the box and so, on Saturday September 26, you have an opportunity to experience an arts evening with a difference.
You can begin your Saturday evening at 6pm with Last Tango in Mullingar, a 40-minute comedy drama (Little Brother Productions) and afterwards enjoy food and a beverage at one of the local hostelries. Last Tango in Mullingar is directed by Mary Hughes and has a cast of four: Paul Curley, Anne Reynolds, Clara Molloy and Paula Mullen. Charlie Donoghue is stage manager.
More details to follow.
MULLINGAR PANTOMIME GROUP, 'THE SNOW QUEEN', DECEMBER 1-23
This Christmas, Mullingar Pantomime Group brings to the stage their 14th production, The Snow Queen. This year's pantomime will be staging 39 performances all with social distancing and government safety guidelines in full effect.
The cast includes The Dame, Shane Bardon, The Snow Queen, Joanne MacDonagh/Clelia Rossi, Elsa, Meabh Ryan, Anna, Siofra O'Farrell, Olaf, Shane Barkey, Kristoff, Conor Walsh, Sven, Greg Dunne/Jack Foran, The Wizard, Daniel Egerton. Other parts will be played by Sarah Nally, Sabrina MacCauley Healy, Claire Gilmartin, Clare Egan, Ursula Maher and the dancers will be Sarah Corrigan, Robyn Byrne, Samantha O'Byrne, Alika Lynch, who will be supported by apprentice student dancers who will rotate and share performances.
This year's show promises to be the biggest and best production yet with scripts currently in development, spectacular costumes ready to go and promotional photographs being completed. To check out the various dates and times for the panto go to www.mullingarartscentre.ie.
Tickets will sell fast, so early booking is advisable.
Dates and Times: Dec 1, 7.30pm; Dec 2, 7.30pm ; Dec 3, 7.30pm; Dec 4, 5.30pm and 8pm; Dec 5, 1.30pm, 4.30pm, 7.30pm; Dec 6, 1.30pm, 4.30pm, 7.30pm.
Dec 9, HSE night (sold out).
Dec 10- 7.30pm; Dec 11, 5.30pm and 8pm ; Dec 12, 1.30pm, 4.30pm, 7.30pm; Dec 13, 1.30pm, 4.30pm, 7.30pm; Dec 16, 7.30pm; Dec 17, 7.30pm; Dec 18, 5.30pm ; and 8pm; Dec 19, 1.30pm, 4.30pm, 7.30pm; Dec 20, 1.30pm, 4.30pm, 7.30pm; Dec 21, 7.30pm; Dec 22, 7.30pm; Dec 23, 5.30pm and 8pm;
SUMMER CAMPS
The centre reopened on Monday July 13 and theatre summer camps commenced and will continue this week and next week. The two camps are Acting Through Song and Dance Technique all with strict social distancing measures in effect.
STAGE SCHOOLS AND DANCE SCHOOLS
We are excited to be welcoming back our talented students to the centre in the coming weeks with the recommencement of stage schools and dance schools, all with social distancing and limited spaces (book fast!). The schools will now have a new way of enrolling online with a new online booking system. Please keep checking the Mullingar Arts Centre website www.mullingarartscentre.ie and social media platforms over the coming weeks for the new online booking details.
Dates: Junior Stage School, August 8; Senior Stage School, August 22; Kinder Stage School, TBC.
Rural Stage Schools Commencing the week beginning September 1
All dance schools Dionysus School Of Dance, Spirit Performance Of Dance Technique and Mullingar School Of Classical Ballet will commence the week starting August 17.