Mullingar Ekiden relay proves an outstanding success
Image 1 of 5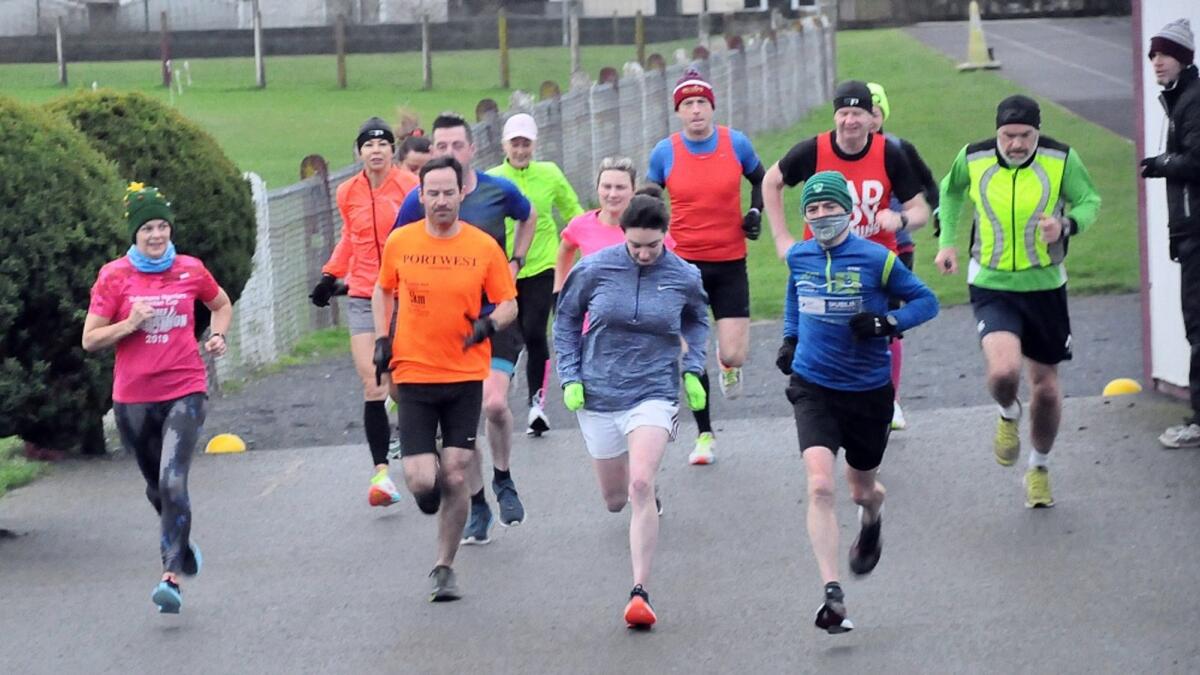 Image 2 of 5
Image 3 of 5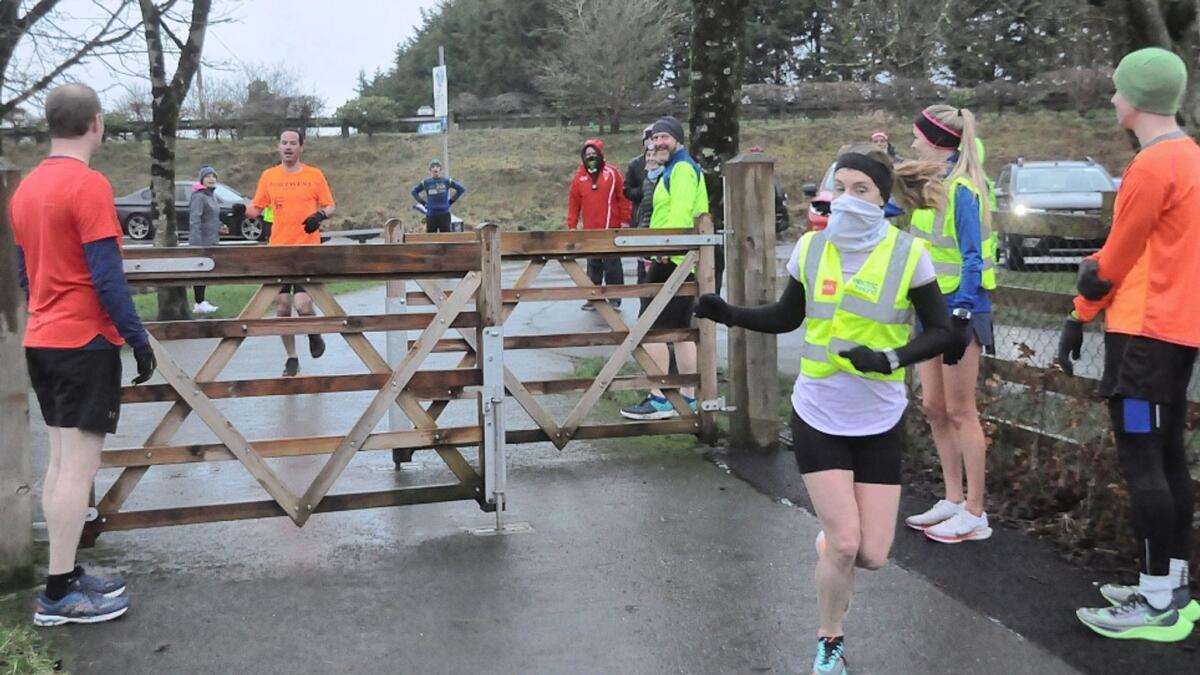 Image 4 of 5
Image 5 of 5
Previous
Next
2020 was a long year with few races in which to take part. Thankfully, last Monday, just days before the country returned to full-scale level 5 restrictions, the Club managed to hold a members-only run with a difference. Seventy-two club members were split into 12 teams and covered the marathon distance of 42.2km over six stages.
The idea for the run was based on the Ekiden, a long distance running multi-stage relay. Its name was given to the old Japanese transportation system for government documents meaning "to convoy" and is now a popular form of racing in Japan.
The six pods containing 12 runners were each located at various starting points around Mullingar, ensuring compliance with the then requirement for pods of no more than 15 participating in non-contact training.
The 12 runners on each stage only went to the changeover point just in time to allow them warm up, and while they waited for team-mates to arrive, they maintained social distancing from each other as required.
Normally a sash is worn by each runner and handed over at each change, but to avoid physical contact between team members, the outgoing runner started running when their incoming team mate reached a predetermined point about 20m away, so there was no physical contact.
Stage 1 began at the Harriers Club grounds and took the runners out the Old Rail Trail to the Ballinea car park. Evan McCormack was first to arrive, giving Team 11 a strong lead, followed by Ken Whitelaw of Team 7 and Team 12's Kedagh Geoghegan.
The second stage took the next set of runners along an 8.5km route to Belvedere and with such a long distance, it was no surprise the order was changed. Sinead Whitelaw was first to arrive, having established an impressive lead for Team 7.
Lorcan Mullen, a late replacement from the original line-up, ran an impressive stage and brought Team 5 into contention, and Gerard Brady put in a similar effort for Team 10 to put them in the top three.
The Queen stage, Stage 3, took the next batch of runners 12km across Gaybrook to The Downs car park on the Royal Canal. Once again, the order of teams was altered and every team changed position.
This time Team 5 took the lead, led in by Eoin Clarke, but Patrick Muldoon and John Whitelaw continued the climb up the rankings to second and third for Teams 10 and 4.
Stage 4 transported the runners along the canal tow path through Baltrasna and into Marlinstown. The first three teams, led in by Máirtín Savage, Philip Twomey and Robin Jackson, maintained their positions at the front of the pack but the gaps were closing behind.
A short Stage 5 to Cullion Beg gave no time for let-up but once again there were plenty of changes. Nicky McCabe kept Team 5 in pole position, but Tommy Conroy brought Team 4 in to second place while Linda O'Driscoll held off the chasing pack for Team 10 in third.
The final stage took the runners back to the club grounds from Cullion Beg. Team 5's Nuala Moran was first to leave the change-over but was closely followed by Martin Mullen from Team 4. However, it was James Tierney who gave victory to Team 10 after passing both runners and crossing the finish line first.
Martin Mullen moved in to second place for Team 4 with just 200m to go and with Cormac Finnerty from Team 12 finishing fast, Nuala Moran had to dig in deep to hold off the Olympian and secure third place for Team 5.
All teams made it to the finish line and after nearly three hours of running there were only a few minutes from first to 12th places, ensuring an exciting day for all involved.
Keeping 72 athletes in compliance with social distancing requirements is not an easy task but the members of Mullingar Harriers are well versed with such behaviour following months of similar instructions at weekly training sessions and should be commended for the difficult task.
With the country back in level 5 restrictions for at least a month, and no sign of races returning to the calendar, events like the Ekiden for club members only may be the sole outlet for competitive running for athletes for the foreseeable.
Great Limerick Virtual Marathon
Like so many events in 2020, the Great Limerick Run became a virtual event, where contestants could run a variety of distances from 5k to marathon on any day between December 24 and January 1, record their run on GPS watches and submit their times online.
Joan Flynn and James Cribbin chose to run the marathon distance last Monday. It's hard to run a marathon in normal circumstances, but even harder on your own, so they started with the Mullingar Ekiden, running stage one for their teams but carrying on and following the Ekiden route most of the way, only amending the route slightly to avoid Mullingar town at the end when marathon fatigue sets in and you just need to keep going without any sudden pace changes or distractions at traffic junctions.
Running along with the Ekiden runners gave them others to run with for a lot of the way, and of course they enjoyed great encouragement as they passed through each Ekiden change over point.
It was still very tough going in wet, windy and very cold conditions, but both were delighted to finish in a comfortable 3 hours and 12 minutes 16 seconds, placing James eighth man and Joan third woman.
Joan is no stranger to the marathon, but for James it was his first time completing the classic distance, so he was particularly satisfied. Congratulations to the two of them on fine performances.
As we know, from midnight last Wednesday, Ireland entered a new level 5 lockdown with very strict guidelines in place to limit the spread of Covid-19 due to its increasing spread.
All club members must follow the latest government advice during this challenging time to ensure we all stay safe and healthy.
Regarding training, only individual training is permitted, which applies equally to adult and juvenile members; while people are allowed to meet outdoors with people from another household when taking exercise, this is only for walking and other forms of exercise and is not to be interpreted as allowing members to meet up and run together, regardless of maintaining social distancing, wearing masks etc.
Members may only run or train on their own (or with other members of their households); no exercise group activities, including those involving children, should take place, which means there will be no training at the club, or meeting up in groups on the roads, Royal Canal tow path, Old Rail Trail, Belvedere etc.
As we're now into a new year, members are asked to please renew their membership as soon as they can. If you're not registered, you're not insured (and can't train at the club or take part in club competition, when they return).
Membership can be paid online though the club's website (or any night at training, when we're back at the club). Rates are unchanged from 2020.
For the latest news and details of fixtures check the club's Facebook page or the website at www.mullingarharriers.com.