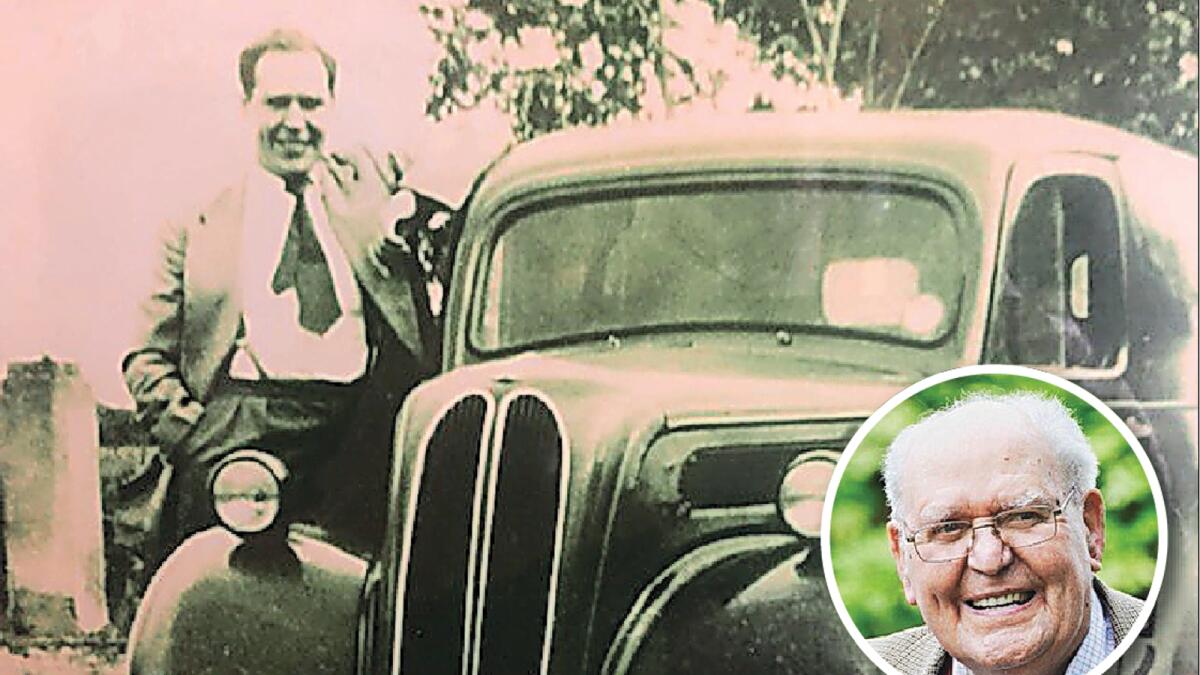 Tributes paid to the late Mr Packy Holmes
Mullingar has this week lost a giant of a figure, and one of the town's most senior citizens, the late Packy Holmes, Bishopsgate Street.
Packy, who was in his 98th year, and who died on Monday (March 8), was a man who made his mark in the worlds of sport, of business and, memorably, amateur dramatics. It should be stated that he was 'amateur' only in the sense that his participation was driven by the love of drama and not for financial reward.
Had he chosen to opt for a life as a professional performer, he certainly had the talent, the nous, the looks and the personality for success.
Packy was presented with the opportunity to turn professional, but weighing up the practicalities, he decided to put family first and not subject them to the financial insecurity such a life might have meant.
A native of St Loman's Terrace and later St Laurence's Terrace, Mullingar, Packy was educated at St Mary's CBS. He showed interest in performing and singing from an early age, and was in the school's award-winning choir in the mid-1930s.
Mullingar had a thriving arts and dramatic scene, and as a young man, Packy threw himself enthusiastically into local musicals and plays.
He was a favourite with audiences, especially in the operettas that were popular at the time, and he was particularly well regarded as a comedy actor, excelling also in the much-loved annual Revue, and in pantomimes.
His times in the limelight were shared by many talented names who were active at various times from the 1940s through to the noughties, such as Peter Fagan, Sean Meally and Padraic O'Farrell. Possessed of a marvellous singing voice, he was also a much valued member of the Mullingar Choral Society for many years.
Fittingly, for a man who was so fond of theatre and drama, Packy was for seven years manager of the Hibernian Cinema on Castle Street, which was in the building now occupied by Wilfs Clothing Store. He had previously worked at the Coliseum Cinema on Dominick Street, and he showed films at the County Hall.
His other great interest was swimming, and he was a member of the Lough Owel Swimmers alongside other great swimmers of that era, including the late Dr Trevor Winckworth. He was a swimmer of some note, and in 1947 set a record of 80 minutes for swimming the breadth of the lake, a record that stood for four years, and in the early 1950s, he served as captain of the swimming club.
An all-rounder, he was also a talented rugby football player, and was a member of the Mullingar 1947/1948 XV that reached the final of the Leinster Towns Cup.
For a spell, Packy had a sweet shop beside the post office, where Joanne Killian's cafe is now located. He also had a fruit and veg business and even provided catering services, including to the carnivals held in the towns surrounding Mullingar.
He was best known, however, for his furniture and antiques business, Holmes' Comfort Stores, which operated from Bishopsgate Street – just yards from where he and his beloved wife Nuala raised their family in a house where there was always a warm welcome for the many visitors who enjoyed calling.
Packy's name would be spoken alongside other notable figures of his era people such as Roche T and Leo Daly, great personalities, great characters, who gave Mullingar such a vibrant air in the 1960s, 1970s and onwards.
He was a popular man and a good man, and was fervent in his faith, loving especially the Tridentine Mass. He and Nuala were married for more than 62 years, having wed in 1958, and she and their family were with him when he died on Monday, following a short illness.
He is survived by Nuala, their children Dermot (Killucan), Jacinta Murray (Mullingar), Pat (Mullingar), Liam (Killucan), Una (Rathconrath), and Bláithín Durkan (Mullingar), as well as by his daughters-in-law, sons-in-law, grandchildren, great-grandchildren, sister Marie Boyne, nieces, nephews and other relatives.
Due to government guidelines, a private family funeral taking place this morning Wednesday at 10am can be viewed on the webcam at mullingarparish.ie.