Tamosiunaite to the fore as Clonkill claim U19 crown
Previous
Next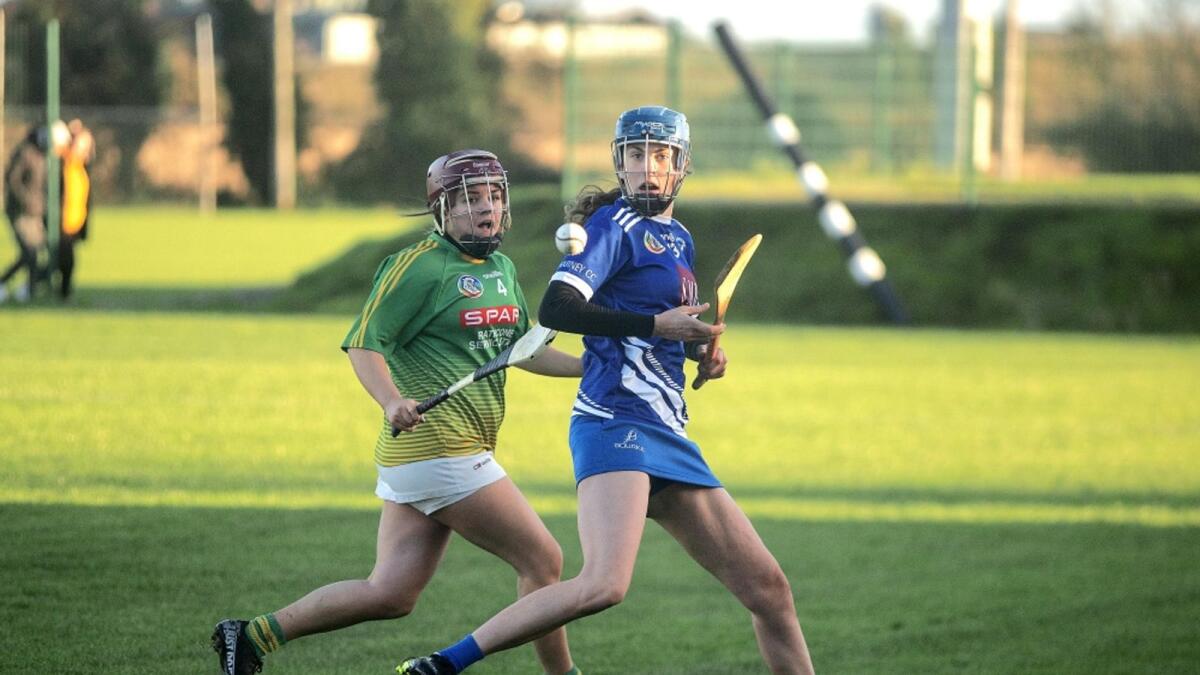 Clonkill saw off the challenge of rivals Raharney to claim the U19 Westmeath Camogie A Championship in The Downs on Sunday.
An identical pairing to last week's senior decider, the ladies from the banks of the River Deel were hoping to replicate their senior counterpart's seventh title in a row by defeating Clonkill.
The early stages were scrappy before a great run by Amelia Shaw forced Alannah Dowdall into a save. Niamh Keogh then opened the scoring for Clonkill from a short free after a super run by Alannah Coogan. Moments later, great link up play by Holly Dowdall and the immense Kristabella Tamosiunaite led to Ellie O'Brien finding the net for a 1-1 to no score lead for Clonkill.
Both Sarah Hynes and captain Amelia Shaw threatened for Raharney, while Aoife Murtagh's movement from the middle to the forwards was working well for Clonkill. The girls in blue opened their scoring through Sarah Coleman's fine point. However, Clonkill threatened to pull away in the next ten minutes as scores from Keogh and Dowdall put them six points ahead. The work rate of Tamosiunaite and Alex Elaurza around the middle was proving crucial to creating scores. But soon came Raharney's purple patch before the break.
Despite the excellent defensive play from Anne-Marie O'Reilly, she could do nothing as a Shaw's long range free was touched into the net by full-forward Cailín Raleigh. Shaw then ended the half with her own score to leave it 1-5 to 1-2 at the break
Raharney came out strong in the second half but still found it tough to break down Clonkill's defence, with O'Reilly, Caoimhe Scally and Caoimhe Coogan in particular impressing. Keogh continued her run of scores with a huge free from the sideline to keep Clonkill ahead. Shaw and Meadhbh Monaghan kept the Raharney fight alive throughout, while Cathy Doyle was doing her best between the sticks.
With 20 minutes left Ellie O'Brien had a chance to put daylight between the sides but saw her shot fly wide of the far post. Keogh then put five between them after a long solo run by Chloe Galligan to set her up. Therese Murray then made a superb catch to stop Elaurza's pass when two forwards lay waiting to pounce on goal.
Caoimhe Coogan then went on a strong run forward and eventually teed up Holly Dowdall for her second to put six between the sides with as many minutes to go. Raharney introduced Kayla Carey, who was very assured during her short appearance. But the day belonged to Clonkill and their determination to play to the end was summed up by Tamosiunaite putting in a huge block in the middle with time almost up.
Keogh finished the scoring with her seventh of the day from a placed-ball after Elaurza, once again, proved her pace was too much to handle. Raharney put in a strong showing and have some fantastic talent coming up in all positions.
For the champions Clonkill, celebrating their third title in a row, there were fine performances all over the park and a deserved victory on the day.
Raharney: Cathy Doyle; Aisling Doyle, Therese Murray, Megan Weir-Hall (Kayla Carey 54'); Ellen Shaw, Caoimhe McAteer, Aisling Keogh; Erin Core, Méadhbh Monaghan; Sarah Hynes, Amelia Shaw, Sarah Coleman; Ava Donoghue (Emma Hynes 48'), Cailín Raleigh, Ciara Keogh (Nicole Mullen 40').
Clonkill: Alannah Dowdall; Anne-Marie O'Reilly, Caoimhe Scally, Leah Tuite; Ellen Flanaghan, Caoimhe Coogan, Áine Doyle; Alex Elaurza, Kristabella Tamosiunaite; Niamh Keogh, Holly Dowdall, Alannah Coogan (Katie Murtagh 45'); Chloe Galligan, Ellie O'Brien, Aoife Murtagh (Ciara Connelly 35').
Scorers:
Raharney: Sarah Coleman (0-1), Amelia Shaw (0-2, 2f), Cailín Raleigh (1-0)
Clonkill: Niamh Keogh (0-7, 5f), Ellie O'Brien (1-0), Alannah Coogan (0-1), Holly Dowdall (0-2)
Players of the Match: Keogh and O'Reilly were superb but Tamosiunaite and Elaurza were unstoppable together.