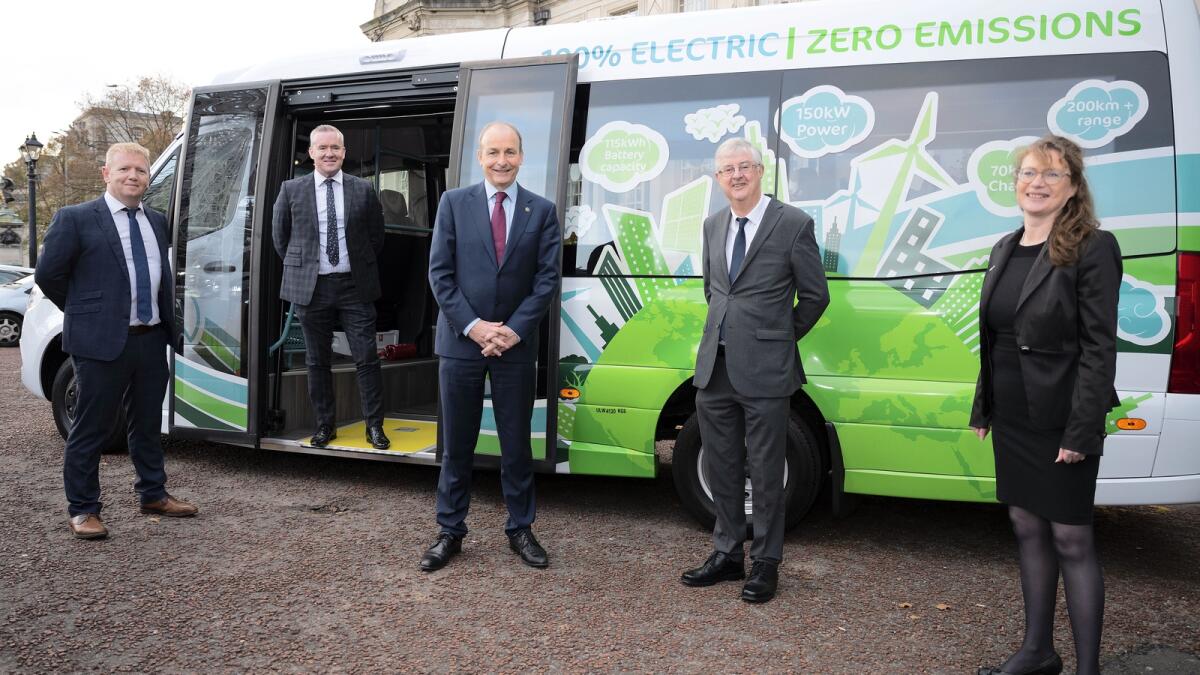 Kilbeggan company supplying battery buses across Europe
The farthest-flung location to which the Kilbeggan firm EVM Ltd has supplied the luxury buses on which it has built its reputation over the last 12 years is New Zealand.
"We do buses for New Zealand, Australia, Hong Kong, Thailand, France, Belgium, Finland and the Nordic countries – mostly Sweden," says managing director Danny McGee.
In the last week, however, the focus has been on EVM's UK operations, after its landmark sale of a zero-emission electric bus to Transport for Wales.
The firm was also one of a number of Irish firms showcased during a trade visit to Wales by An Taoiseach, Mícheál Martin last Friday.
During the visit, organised by Enterprise Ireland, An Taoiseach learned that EVM Ltd, which has a sales office in West Sussex as well as its manufacturing plant in Kilbeggan, has already been supplying low emission accessible minibuses to councils throughout Wales for their 'Fflecsi' demand-responsive transport service.
The progression to supply of the new zero-emission bus is a significant step forward for EVM Ltd, which already has orders to supply similar battery electric vehicles (BEV) to a big-name transport operator in London and also a firm in France.
Danny McGee, who founded and heads up EVM, told the Westmeath Examiner that the firm's success is down to the quality of the buses it builds.
"We take in what is a Mercedes Sprinter base, manufactured in Düsseldorf, which is a diesel product. We strip out the engine and rebuild it as an electric vehicle," says Danny.
The body of the Mercedes also gets transformed to create the body of the bus,
It's not an uncomplicated process: "We strip out the engine, the gearbox, and the exhaust system and we are building for the three battery packs and the drive motor and the AC/DC charging so you have the option of AC and DC charging with your inverters and your electric power steering and electric air conditioning, so we are rebuilding the chassis into electric."
At present, due to what Danny describes as a lack of government support for firms here seeking to make the transition to low or zero-carbon vehicles, EVM's focus is on its international customers.
"It is a huge step forward for any organisation to invest in electric and electric infrastructure," says Danny, adding that at present, funding for that transition is available in the UK and Wales in order to get to zero emissions standard.
Pandemic
It is only in the last year or so that EVM – which employs 55 – began the process of producing zero-emissions vehicles.
"As a company, at the start of the pandemic, when we found space to breathe, we refocused what we do and I think a lot of companies across the world did [likewise]," Danny says, pointing out that the lack of traffic on the roads made the air noticeably clearer.
"Up until the pandemic, we were focused on low emission and since the pandemic started, we've started focusing more on zero emission. There are different options in the market such as hydrogen, but we believe as a company that electric for the type of project we do is the future."
The range is impressive: 175 miles on 75 per cent of the battery
Brexit has been a considerable complication: "For us, it's all about the supply chain, and it's added cost and added delays," says Danny. "Everything now – importing a part – takes longer. I spoke to our purchasing department here yesterday and they said what used to take 10 days pre-pandemic and pre-Brexit now takes 40 days. If you take the demand that is on transport now, and the fuel increases, everything just has a knock-on effect, so you have longer lead times and additional costs." There is also more paperwork.
These issues were all raised with the politicians during Friday's event, Danny stated.
Looking to the future, EVM is experiencing strong interest from France. While the firm's current Sprinter can carry 18 passengers, it is, Danny says, well on its way towards production of a 33-seat model to address the French requirement.