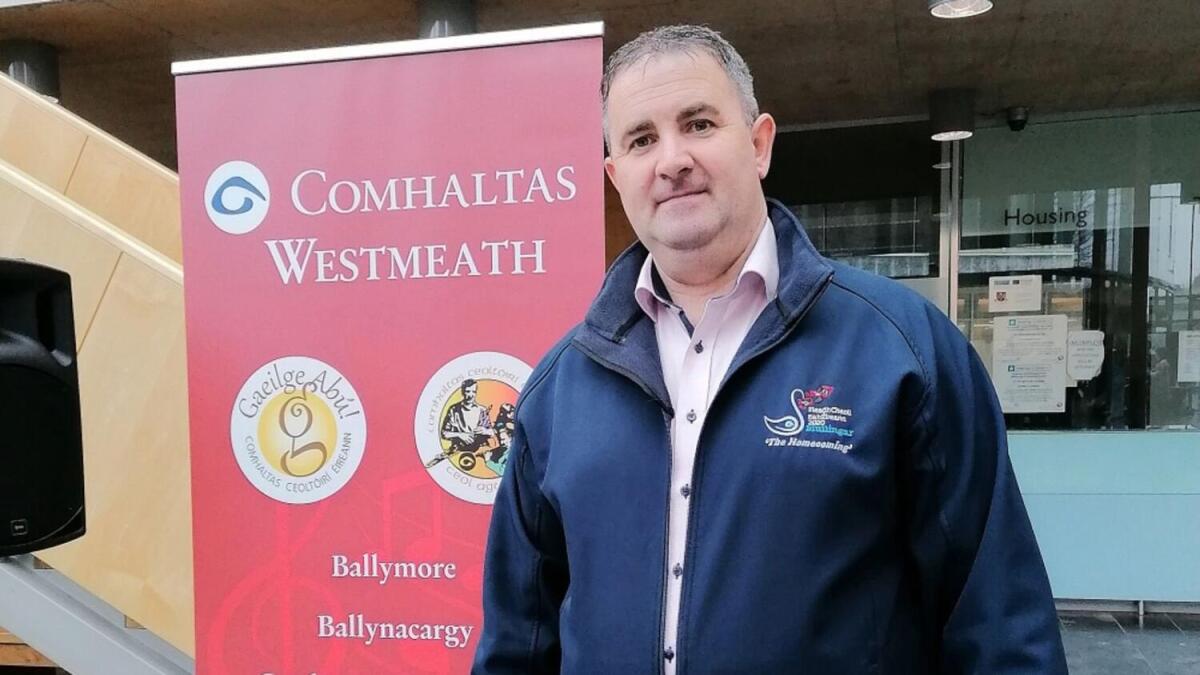 'Please don't rip people off' says fleadh chairman
The chairman of the fleadh organising committee has urged locals "not to rip people off" when they come to Mullingar this summer for the week-long traditional music festival.
Speaking to the Westmeath Examiner yesterday, Joe Connaire said that he had received reports of homeowners quoting exorbitant prices to families looking to rent houses and rooms in Mullingar during the fleadh.
He says that if Mullingar is to host the fleadh again in 2022, it is vital that visitors leave with a positive impression of the town and that there is no price gouging.
"I have stated in public that we don't want the people of Westmeath to rip off the people coming to our town. If they do, the event won't be back.
"If people want to make a few quid, that's fine, but please don't rip off anyone. There is a sense of greed about the place. I want to hammer home this. We, as a volunteer committee, are bringing this event to the people of Mullingar and I hope they make a small fortune out of it, but there has to be some form of gratitude from the business people back to us; the publicans, the restaurants and anyone going to make money.
"We want this event to be successful. We want the people of this country and the diaspora to talk about how great it was in Mullingar. We want them to say: 'We definitely want to come back to Mullingar for the fleadh in 2023', but if they are ripped off in '22, they won't come back in '23.
"We don't want them to say, 'We won't go back there because the prices are outrageous'. I see it, there is a bit of greed out there and I am not cool with it."
Mr Connaire says that while Mullingar "practically has it in the bag" to host next year's fleadh, "at the end of the day there is a lot counting on how the fleadh is run this year before we get the 100 per cent green light for next year".
Preparations for the event, which its estimated will attract more than 500,000 visitors to the town, are generally going well, Mr Connaire says.
Committee members Willie Penrose and Declan Leonard have been meeting business owners to try and secure sponsorship to help cover the €1.7m running costs.
Mr Connaire says that the response has been "pretty good".
"There are some areas that were weak and we'd like to improve, but we are grateful for any sort of sponsorship we can get. We'll take the €50, and the €5,000 gold sponsor as well. We are meeting the restaurants tonight [Monday] and hopefully that will go well. They are a sector that will benefit hugely from the fleadh coming to town. We will be chatting to them about sponsorship and street closures and the logistics of getting deliveries in and out of town in the mornings."
The fleadh committee will be holding an open day shortly to discuss with businesses the logistics of getting goods in and out of Mullingar during the fleadh, which takes place from July 31 to August 7.
Last year the fleadh committee asked homeowners in Westmeath to give up rooms in their homes for visitors this summer. Mr Connaire says that the uptake has been quite good and he's hopeful that more people will sign up as the event approaches. The sooner people register, the better, he says.
"Anne Dunne and Julia Dalton are in charge of volunteers and accommodation. It is beginning to hit home to people that the committee need them to register now.
"The more we have registered at this stage the better. You can't force anyone to give up their accommodation, but I will say is that it is a very family orientated event. They are genuine, decent people who come to fleadhs. There has never been an issue at a Fleadh Cheoil na hÉireann where property has been damaged. These are families that come with their kids to perform and try to win an All Ireland title.
Continued on page 2
"The Ukrainian people seeking shelter and homes in Ireland has hit as well because there are hotel rooms and people's houses that have to house these people as well, that's more important than any fleadh that these people are looked after."
The committee is also putting the finishing touches to programme of events and it will be published within the next fortnight.
"Colette Glynn, Linda Price and Aisling Coleman and myself are working tirelessly booking the bands for the major concerts for the week of the fleadh. We are almost there. We hope to go online for ticket sales in the next fortnight.
"That will be good because the income will come into our accounts once we start selling tickets for the big concerts like Martin Hayes, Sharon Shannon and the Kilfenora Céilí Band.
"I think we have about 65 pay in events over the week, so there is a lot of organising and logistics. You have to look at sound, lighting, the venues, insurance and all that. It's a huge thing to get all that sorted but we are all much there.
"I want to put it out there that this is a huge event to organise. People think the fleadh is coming, it's great, we just click our fingers and it's here. I am afraid that isn't the case. It's 24/7 in terms of organising everything and trying not to leave anything out."
The committee is holding a fundraising concert by the Blackwater Céilí Band in the Cathedral on May 6. It will also serve as a trial run for the fleadh, as the cathedral is the venue for many of the week's biggest concerts.
"The cathedral holds approximately 1,600 people and the concert is a trial run for the ceili band competition on the final Sunday night. It's the biggest competition. We would love a full house on April 6. Tickets are €10 each. We are pricing them to get a crowd in and raise funds for the fleadh. We will also be doing a bit of training for volunteers who have signed up."
One of the committees other fundraisers is the Big Car Draw. Tickets priced at €20 for one and €50 for three are still available. The draw for the raffle, which has a first prize of a Toyota Corolla Sport Hybrid, will be made on the gig at the closing ceremony on August 7. Tickets for the draw can be bought online at fleadhcheoil.ie.