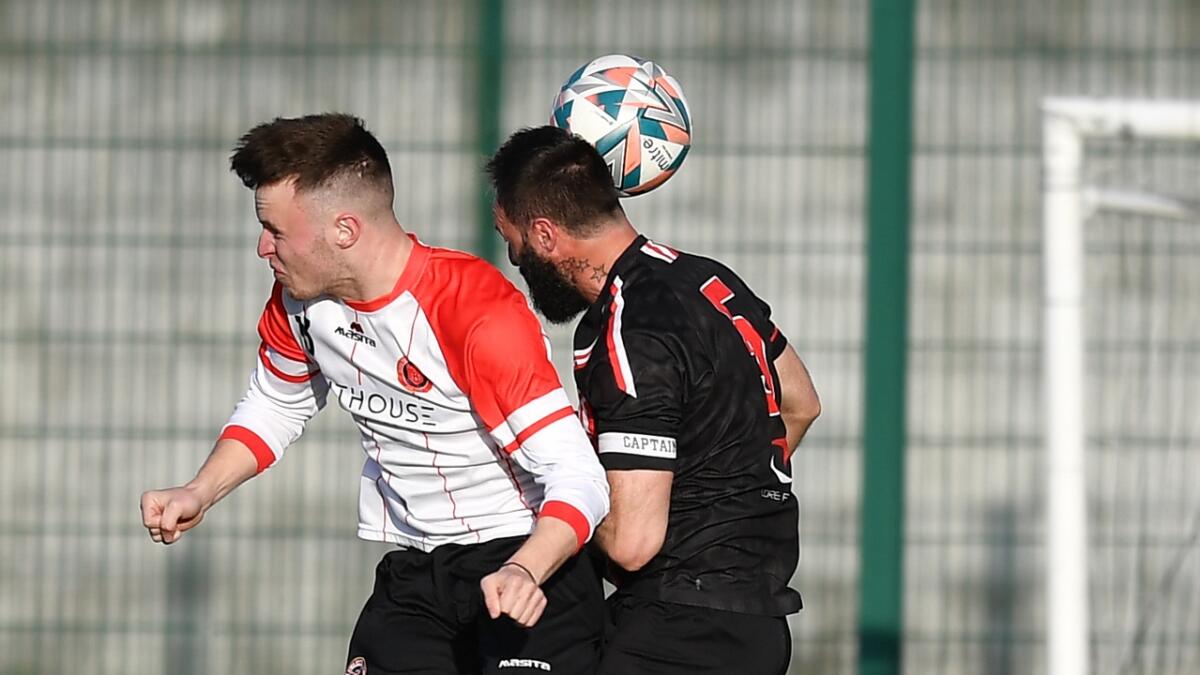 Heartbreak for Town in end of season cliffhanger
CCFL Senior Division: Mullingar Town 1, Clara Town 1
In the space of seven second half minutes, Mullingar Town went from ecstasy to agony in a very well attended D'Alton Park last night, as the hosts went from the prospect of winning their first ever CCFL Senior Division title to the reality of finishing third, in a rollercoaster of emotions for everyone in attendance.
With Monksland winning their game easily, the task was very simple for Town: win, and the title is yours; draw and Clara would earn a playoff with the former. Such are the vagaries of sport, that at any time during this game that scenario, could have switched from one to the other on numerous occasions.
Joint Mullingar Town manager Jacko McNamee was philosophical if not disappointed that his charges could just not get it over the line in a year when they lost club stalwarts Paddy Murphy and more recently, Paddy Colgan.
"We probably lost the title with too many draws earlier in the season in games we should have won," said McNamee. "But I could not be prouder of those lads, some of whom played through injury tonight. That says a lot about their character and commitment and they owe the jersey nothing."
Sean Reid looked to have set Town on their way with his goal on 58 minutes, but for the 10 minutes that followed Mullingar fell asleep somewhat, and after one close shave they left a Clara overload on the left, and Neil Robbins levelled in what was realistically Clara's only period of dominance.
Mullingar laid siege to the Clara goal thereafter but simply could not find the net, going close on several occasions. But the looming final whistle became their enemy each time the ball didn't find the net, and time eventually ran out.
Town's other joint manager, Mark Brady, was in sombre mood afterwards.
"Their keeper was man of the match and that says it all really. We didn't hold our lead when we got the break, and they punished us for falling asleep for a couple of moments," Brady remarked.
"Finishing has been our problem all season, but a bounce of a ball was all that decided this league in reality and we didn't get it tonight or during the season."
The game started very cagey indeed, with the emphasis on not going behind early. As a result, the first half was forgettable in the main.
Clara dominated the early exchanges playing with a very strong wind on their backs, and Robert Bracken had the ball in the net, only for it to be ruled offside. But Mullingar possibly had the better chances, with Sean Reid brought down on the edge of the penalty area after breaking through, and Jamie Loran denied what looked a certainty when clean through from a brilliant Darragh Kiernan pass.
Clara goalie Gavin Fleming somehow getting a touch to deny him the opener on 25 minutes. Darren Keena, Jason Charles and Sean Reid had other half-chances for Mullingar, but the whistle blew for half time after a very uneventful 45 where defences were on top.
Clara had the opening chance of the second half when Town netminder Adrian Rapacki saved from Robert Bracken, but from the break Mullingar should have opened the scoring when Enda Morris got on the end of a superb move, only to see his shot tipped around the post by Fleming, who was in defiant form for Clara.
Johnny Keegan replaced Loran for Mullingar, and it immediately had the impact required when he won a corner on the right. When it was swung in, it was dropped and pounced on by Sam Watkin first and then Sean Reid, who tapped into the empty net for the opener, much to the delight of the huge home attendance. All of a sudden, the league title looked set for for D'Alton Park.
But the goal only served to stir Clara into action, and after Kiernan headed off the line from Robert McDonagh, it was only moments later that Mullingar were punished for their slumber. An overlap on the left saw a queue of Clara players almost getting in each other's way, and eventually Neil Robbins crashed past Rapacki for the equaliser.
Mullingar Town needed a quick response, and to their credit they tried everything, with Sean Reid and Keegan going close. Then, a goalmouth scramble involving Watkin, Morris and Keegan led to a chance which was again repelled by the impressive Fleming.
Jason Charles joined the forward division at this stage, as time began to run out and two superb headers from 'Bubba' just went the wrong side of the post, while Sean Reid looked to have won it when he nodded across the goal. But again, it was outside rather than inside the upright.
Despite a frantic late rally, Mullingar could not get the elusive goal that would have claimed the three points and the title. The final whistle blew to break all hearts in D'Alton Park except the visitors, who now meet Monksland in a do-or-die league decider.
Scorers: Mullingar Town 1 (S Reid 58), Clara Town 1 (N Robbins 65).
Mullingar Town: Adrian Rapacki, Paul Reid, David Mimnagh, Darren Keena, Jason Charles, Sean Reid, Jamie Loran, Enda Morris, Sam Watkin, Mark Hickey, Darragh Kiernan. Subs: Johnny Keegan for Loran (56), David Dyer for Keena (71), Kevin Keegan for Morris (81), Frank Kavanagh for Kiernan (84).
Clara Town: Gavin Fleming, Lee Tierney, Pa Smith, Sean Tierney, Alex Hall, Robert McDonagh, Robert Bracken, Luke Dignam, Josh Fleming, Stephen Deehan, Neil Robbins. Subs: Adam Kelly for J Fleming (31), Gio Russo for Bracken (63), Carmine Russo for Robbin (83), Kyle Stewart for Smith (91).
Ref: Declan Toland.