Stars are not easy to create – violence not easy to eliminate
Previous
Next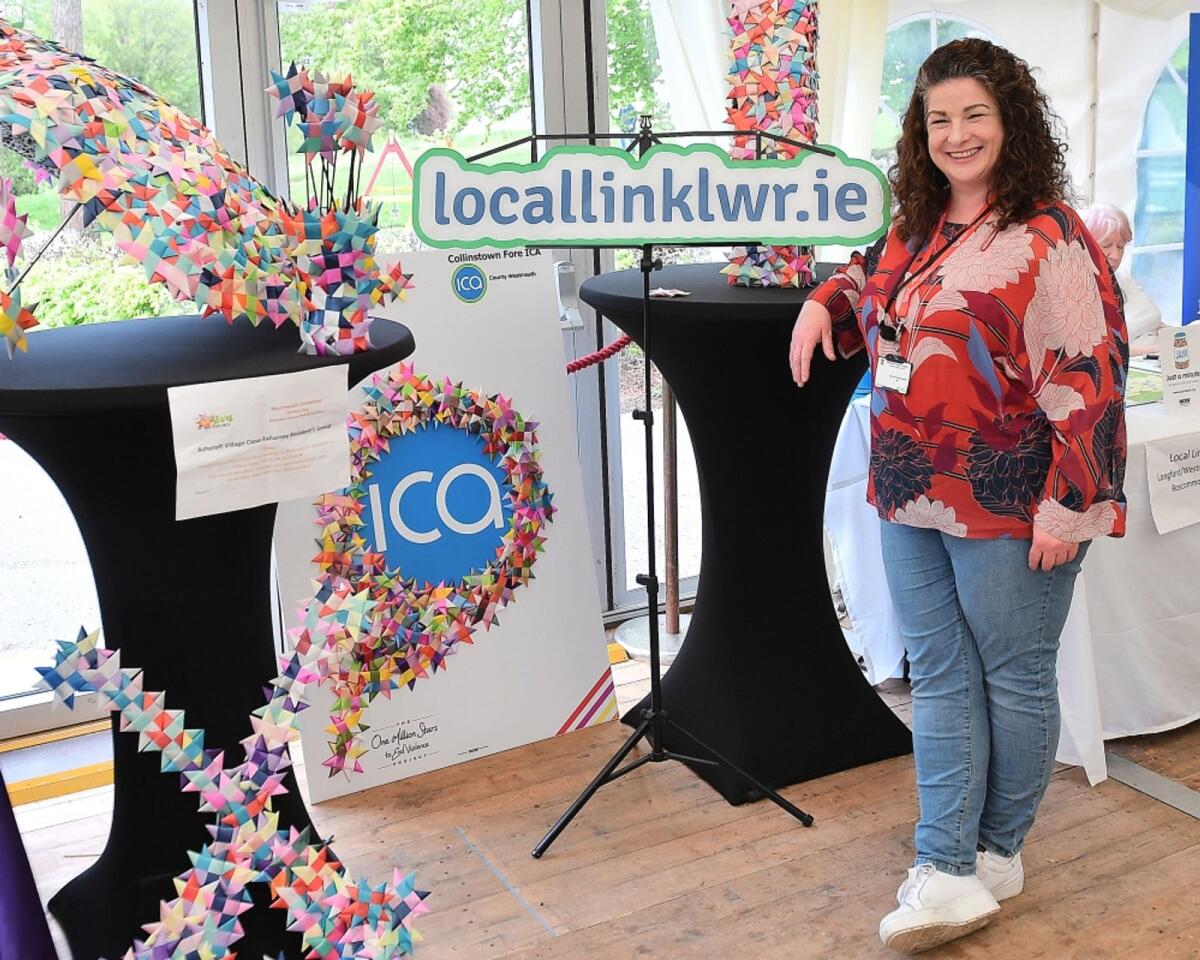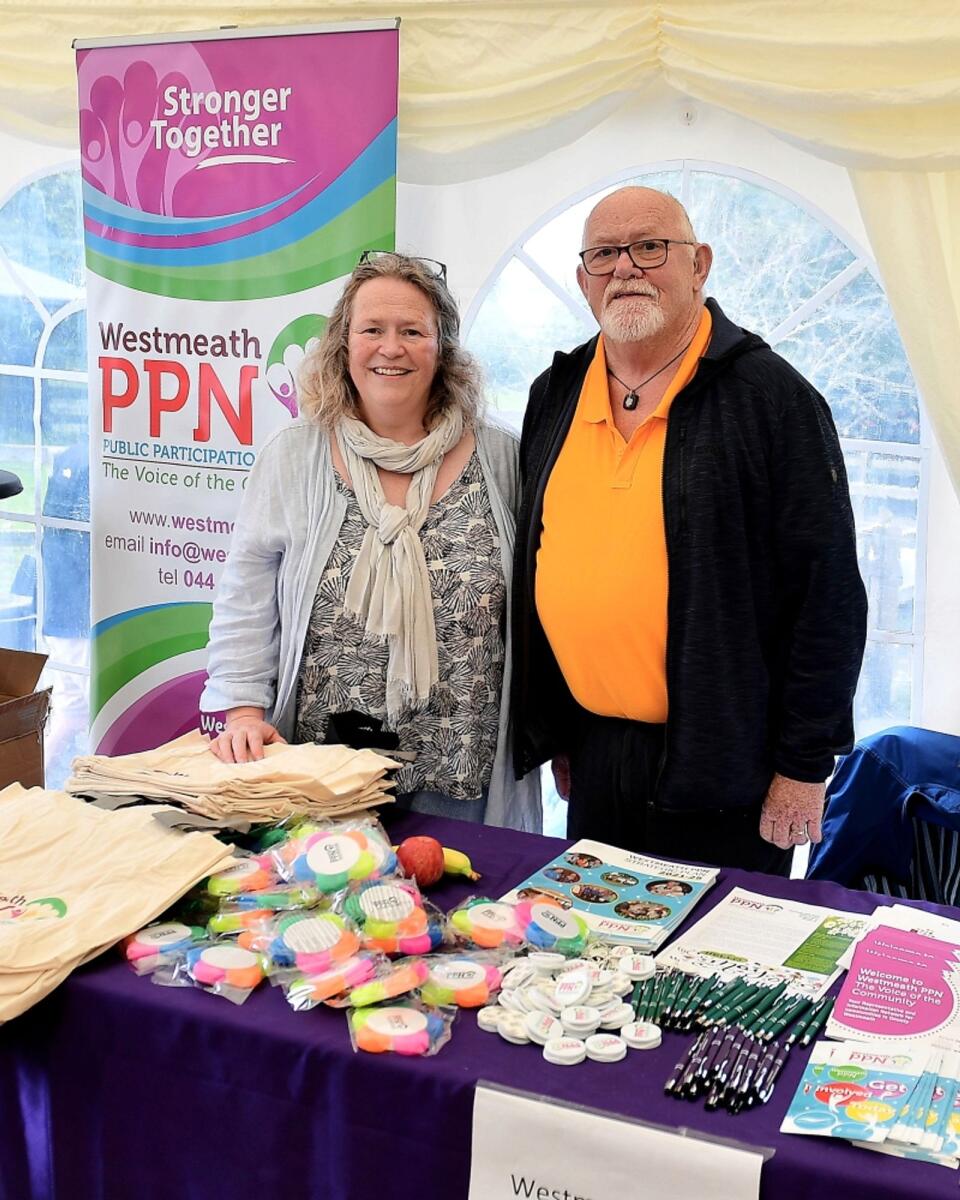 One Million Stars to End Violence Health Wellbeing and Arts Event, Belvedere House and Gardens
Una D'Arcy
Bags of pretty florist ribbon were dropped into groups that signed up for them with instruction sheets detailing how to turn four ribbons into one eight pointed star.
The stars start not unlike the first four reeds of a St Brigid's cross and for anyone that has ever folded palms to make a cross at Easter, the square is bolted through in a similar fashion. Then it becomes quite origami-like, folding back and forth to create the triangular tips.
The consensus was that they are not easy to make.
Yet make them the groups did, hundreds and hundreds of stars. Enough to fly kites, flags, pennants and streamers throughout the stables courtyard of Belvedere House and decorate the railings outside. Enough to create corsets for dresses, cover umbrellas and hurls, bundle into bouquets and wrap an entire bus stop.
The Soroptimists chose only yellow and blue ribbons for their display, welcoming Ukrainians to the event; Horseleap and Streamstown ICA spelled out the word peace, and Longford Westmeath Mental Health Residential Services created a piece titled 'we all share the same sky'.
"What began as a campaign to highlight the issue of domestic abuse and the support services grew into a wellbeing movement and has evolved the message into a wider statement that violence in all forms is not acceptable," said Brigid Geoghegan of WPPN and Healthy Communities LDO.
"This event (on Saturday of last week) has many elements that we hope will give people joy including sports, Irish dancing, a wildlife walk and tours of Belvedere House."
On April 6, 2020, the gardaí reported a 25 percent increase in domestic violence calls and in the same month, the United Nations secretary general António Guterres called for measures to address a "horrifying global surge in domestic violence" that was linked to the pandemic lockdowns.
"I keep hearing people talking about how this is their first day out in such a long time. Social isolation is a terrible thing and many people have been at home unable to socialise with friends and family.
"Events like this one are a reconnection for people and are a wonderful day out," said Brigid.
Following on from the 'Go Purple Day' which also raised awareness about domestic violence, One Million Stars is an arts project connecting communities in solidarity against domestic abuse and violence in all forms.
Domestic violence is a complex issue; risk factors include unemployment, poverty, relationship conflict, alcohol use and abuse, a family history of violence, social norms that accept violence, social isolation, inadequate victim care, lack of information and gender inequality.
Stay at home policies are also identified as a risk factor isolating women and children from their networks and family.
So, it makes sense that the information village at the Belvedere event on Saturday included gardaí, TEAM and Westmeath Support Services as well as the ICA, Midlands Youth, Active Retirement, Fire Services, neighbourhood development committees, TFI Local Link, Westmeath Sports Partnership, Westmeath Library and Mental Health Services. There was even a stall with a set of taxidermy animals brought from the National Parks and Wildlife Collection in Sligo sitting alongside the PPN and Midlands Child services.
"And we welcome two groups of guests that we hope have a wonderful day with us today. Ukrainians, who are staying in Athlone and Castlepollard are coming here today.
"I hope they enjoy the event and get to meet the wonderful community groups that make up the PPN and will play important roles in supporting them," said Brigid.