'The Drover' a nod to fair day tradition in Ballymore
Previous
Next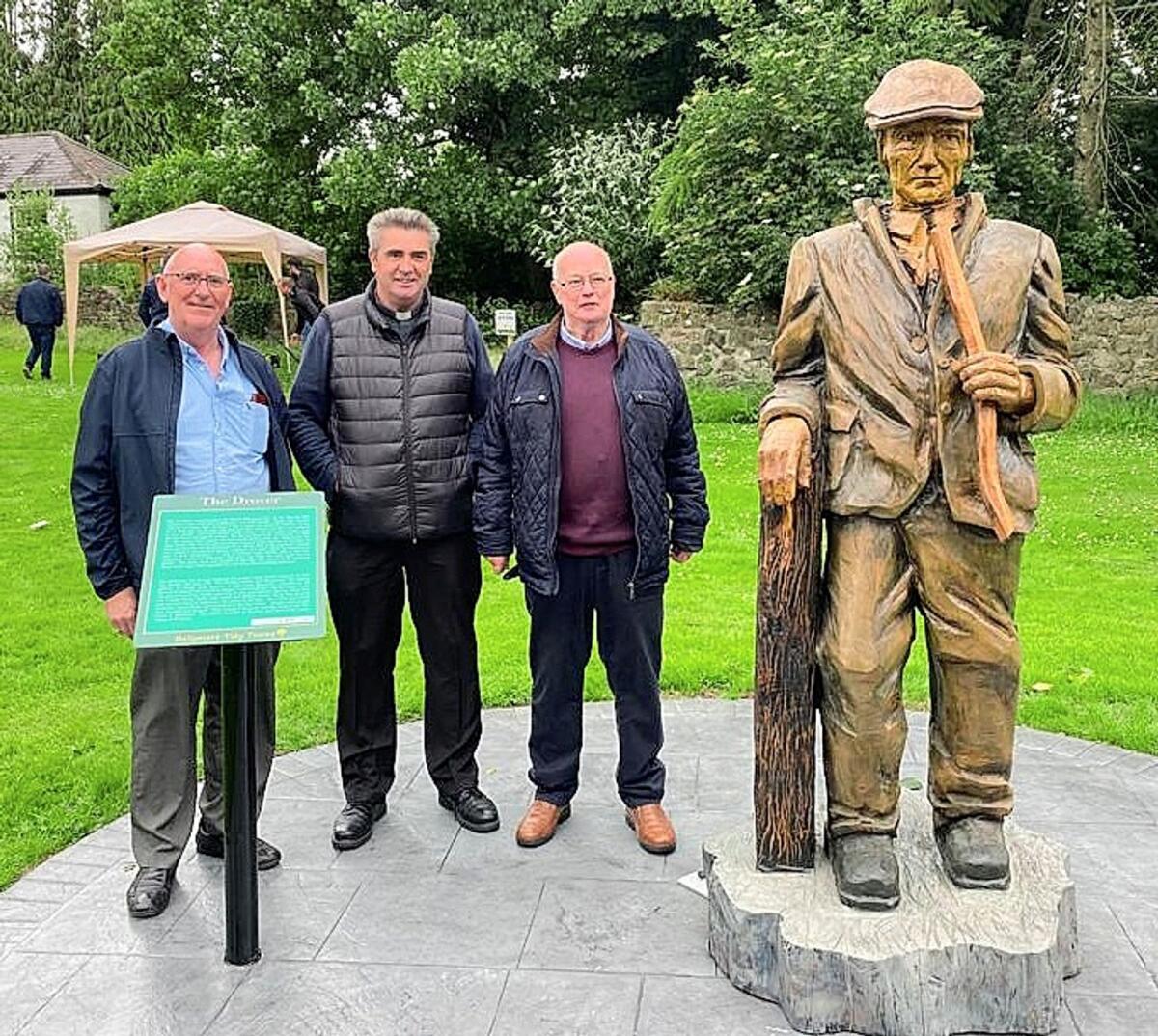 Standing eight feet tall, in a prominent position on the large green area in Ballymore, the sculpted figure 'The Drover', by artist Richie Clarke is Ballymore's first piece of public art.
The structure was unveiled officially on Saturday, and the honour of doing so fell to the current Westmeath Rose, Rachel Duffy from Rosemount, and 12-year-old Jack Kenny, Ballymore's youngest Tidy Towns volunteer.
"We had a good turnout for the unveiling – around 80," says Cllr Vinny McCormack, a member of Ballymore Tidy Towns, which commissioned the work.
"We chose to have a statue of a drover erected because of the fact that there were fairs held on that green area right up to the 1950s," he said.
Local historian, Seamus McDermott, says the tradition of trading there goes back 1000 years, and farmers would sell cattle, sheep and pigs, and perhaps the occasional horse.
The fairs were held twice a year, in June and October, and the unveiling was scheduled to link in with that June tradition.
The funding for the sculpture came from two sources: Ballymore Tidy Towns and Westmeath Leader.
"Much of our funding came from the sales of the book 'Two Ends and No Middle'," says Cllr McCormack, explaining that in 2021, the committee decided to assemble a book which would contain photos of present and past residents of Ballymore. So popular was 'Two Ends and No Middle' that it went to a second run.
The Tidy Towns group in Ballymore has an active membership: up to 15 people turn out every Tuesday night to maintain and develop the area, and they have big plans for the area – especially on the biodiversity front.
Cllr McCormack praised the sub-committee that prepared the site where The Drover now stands – Seamus McDermott, Ollie Dooner, Anthony and Jack Kenny, Johnny Meares, Peter McGrath and Jarlath Monaghan.
Cllr McCormack stresses that the efforts that the Tidy Towns volunteers make area not just geared in improving Ballymore's rating in the Tidy Towns competition: "It's about making the village a nice place to live," he says.