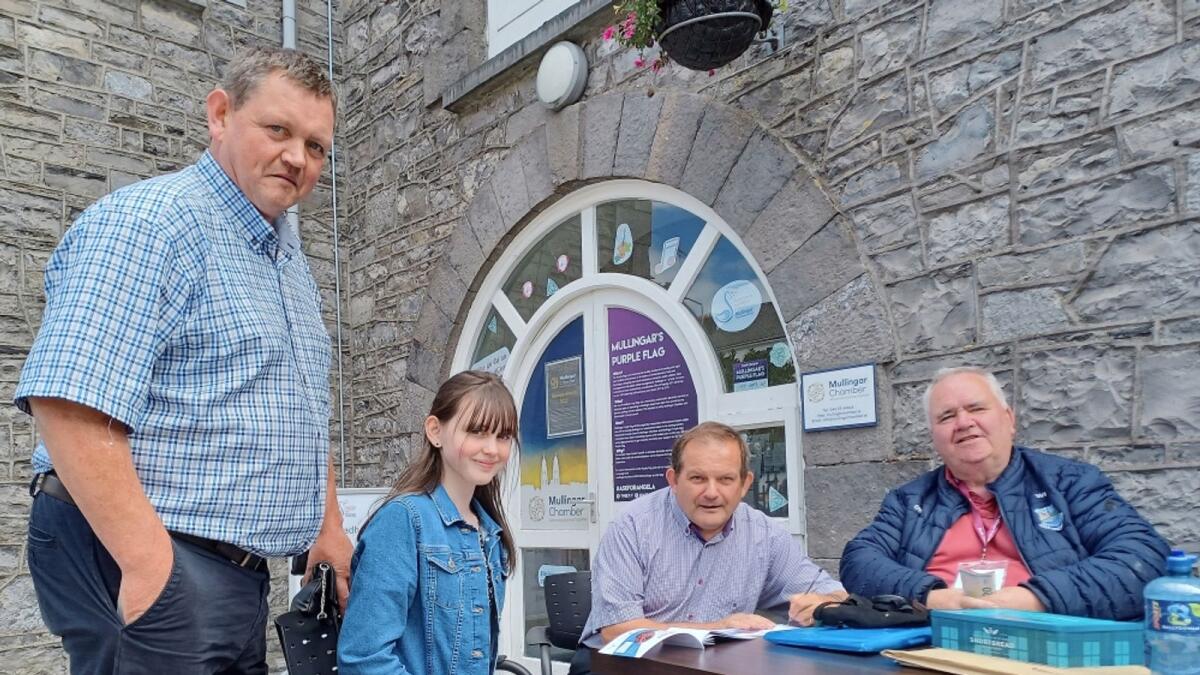 Mullingar 'a short price favourite' for 2023 - says jubilant Penrose
With visitor numbers exceeding 500,000 and a revenue boost to the local economy of €50m, it was a jubilant Willie Penrose who predicted that Mullingar is "a short price favourite" to again host Fleadh Cheoil na hEireann next year.
On day eight of a hugely successful Fleadh Willie said: "We were getting the vibes that we would surpass the half a million and we have definitely surpassed it at this stage". He said the crowd in town on Friday night was the biggest ever at the Friday night of a Fleadh and it was estimated that between 135,000 to 140,000 attended on Saturday.
"We figured it would be a very good Fleadh. The Homecoming was a gem. That became a tagline and it developed a dual meaning – "the Fleadh was coming home, but then people were coming home to the Fleadh", he said.
Willie reckons that the anticipated €50m revenue target for the Westmeath economy will be passed. "It has been incredible, beyond words," he said.
However, the economic benefits do not end there. Many of the visitors, not just Comhaltas people, have expressed the wish to come back.
People did not realise Mullingar was so beautiful and so big, but now it has been showcased to the world and the hospitality extended by the people of Mullingar will pay off in spades, Willie commented. Also invaluable is the huge media attention: "An ad for 35 or 40 seconds on RTE costs about €25,000 and we're going to have six 30 minute slots on RTE, provided by John Creedon, in January and February after the Six One news! This is huge for Mullingar and Westmeath and there will be a massive return in terms of tourism. I'd say Paddy Mathews of Fáilte Ireland will be very excited," Willie stated.
Mullingar has a lot of natural advantages when it comes to staging an event of this magnitude. It has a long main street stretching from the Green Bridge to the Dublin Bridge, an orbital road, car parking and rail and bus services, he continued, adding that, however, none of it would have been possible without the help and support of the local people, businesses, statutory bodies, the local authority and in particular, the 1,100 volunteers.
"Over 1,100 volunteered. People appeared at 9am and stayed through to 9pm. They were at all the venues, car parking etc," Willie declared, pointing out that most were, as a result, denied the chance to fully enjoy the action.
Willie and Joe Connaire, the chairman of the Fleadh committee, have clocked up 4,000 hours each of voluntary work over the last six years to make this Fleadh happen.
Willie is loud in his praise of An Garda Siochána who were 'beyond superb'. "People had the idea that it would be a huge festival and there would be issues, but there were none, nothing more than usual and any incidents were dealt with swiftly".
He saluted also the other statutory agencies, Westmeath County Council and its executive, engineering, outdoor crews and other staff for all the work they did to make the Fleadh a success.
He praised the Tidy Towns committee members who helped clean up the town every morning between 3-6am and were on hand to help throughout the days.
Thanks were due too, he said, to the Bishop of Meath, Dr Tom Deenihan and other religious leaders and clergy for their help and support, and he also acknowledged the part played by residents. "We appreciated that there was going to be inconvenience, but it was minimum."
There was only one element of the Fleadh that disappointed Willie and that was the fact that some businesses who profited handsomely from the week's events did not support the organising committee financially or otherwise.
"The publicans, under the chairmanship of Liam Gilleran were a very cohesive group that worked hard and gave us a huge boost. They were supportive from the start," he said.
However, some businesses, "who we know will have done well from this, did not make any contribution to it, financial or other". Willie said that was disappointing because the Fleadh cost approximately €1.65m and the committee had to raise about €670,000. "We weren't doing it for ourselves. We were volunteers – there was nothing in it for us only the love of Irish music, song and dance".
Among the committee volunteers were Willie's brother, Johnny Penrose who with Declan Leonard sold tickets for the car raffle at the Market Square all week; chairman Joe Connaire, Colette Glynn – "a great administrator"; Padraig Keena, Bernie McHugh, Linda Price, Enda Seery, Brendan Doyle, Aisling Coleman, Julia Dalton, Ann Prendergast, Niamh Penrose, Danny Mulvihill; and from the county council, David Jones, Anne-Marie Corroon and Pauline Hussey.