Close shave as Mullingar Sailing Club hosts Mirror Westerns
Ironically there was nothing close about it as Lough Ree Yacht Club's Conor Duffy and Eoghan Duffy sailed their boat "A Close Shave" to victory in all four races of the Mirror Western Championship held at Mullingar Sailing Club on Sunday August 28.
The International Mirror Class Association of Ireland saw a fleet of eleven two-handed dinghies sailing on Lough Owel for this event.
Similar to a shark feeding frenzy the red sails of the Mirrors circled aggressively around the start line before the gun jostling for the best position. As the first gun of the day fired the red sails crossed the start line together, before Lough Ree's duo in "A Close Shave" managed to break away, sealing first spot in the Sliver fleet. Mullingar's John and Grace Zummerchik dominated the Bronze fleet taking first place in their boat "Just 2 Hot". Four quality races gave the following results:
Previous
Next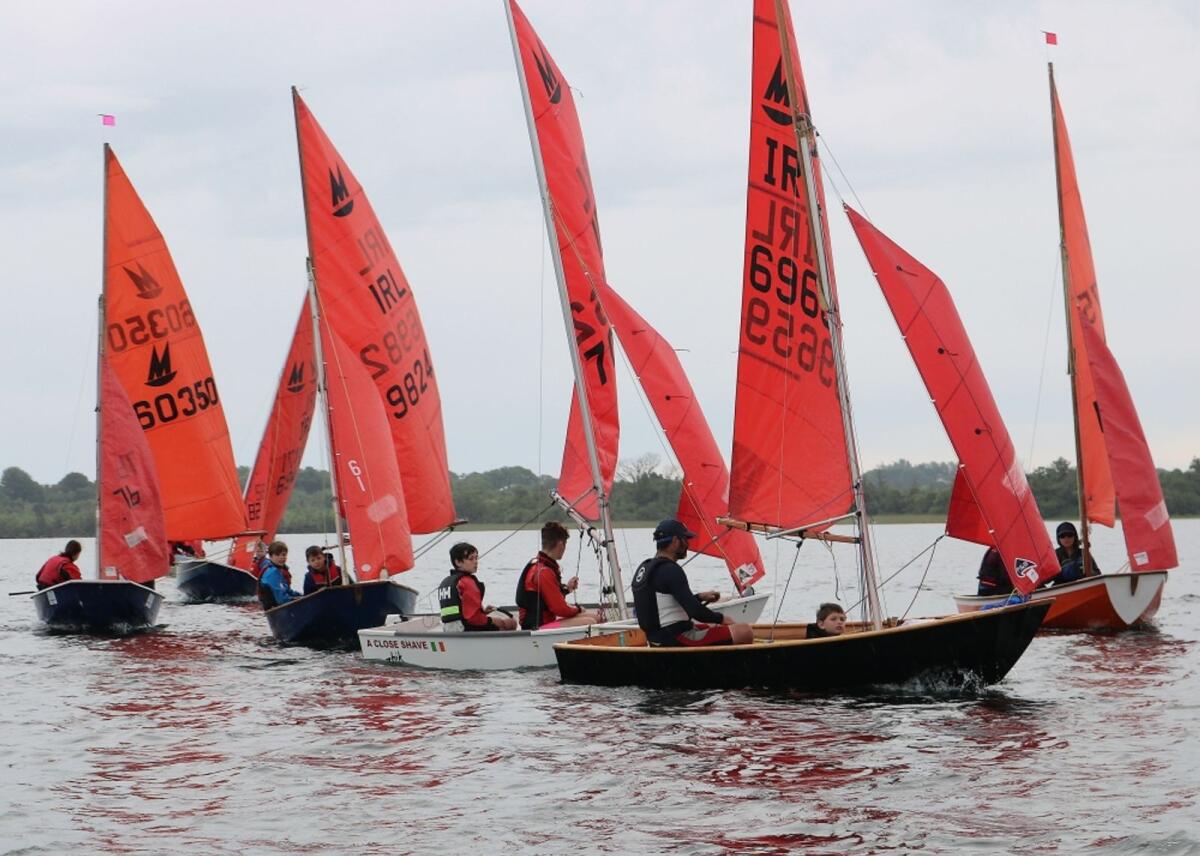 Silver Fleet
1st: Conor and Eoghan Duffy, Lough Ree Yacht Club; 2nd: Donncha Dullea and Matthew Turner, Lough Ree Yacht Club; 3rd: Lucas and Annika Flynn, Blessington Sailing Club
Bronze Fleet
1st: John and Grace Zummerchik, Mullingar Sailing Club; 2nd: David Maher and Sean McAllister, Lough Derg Yacht Club; 3rd: Amelie Dullea and Aoibhinn Martin, Lough Derg Yacht Club
For the full race results please visit our website: www.mullingarsailingclub.ie.
Racing originally planned for Saturday August 27 had to be called off due to light winds. However, sailors present benefited instead from an onshore training session delivered by leading dinghy performance coach Thomas Chaix. This included boat rigging and sail trimming which is a vital for sailors to get maximum performance from their craft.
Mullingar Sailing Club would like to give special thanks to Fleet Captain Elva Roe, Commodore David Maxwell and all club members who helped with the event ensuring it ran smoothly.