Angel Art celebrate new premises with grand opening and Halloween Party
To celebrate the opening of her eclectic new shop and studio space, Joanne Daly of Angel Art, located across the road from the original premises on Austin Friars Street, is hosting a Halloween Party for all ages on Sunday October 30, followed by an invite-only soirée that evening.
The Mullingar native has created a warm and inviting space in the heart of the town which she hopes will become a hub for those seeking a more holistic approach to life.
The grand opening starts at midday and includes a pumpkin carving competition, airbrush tattoos and henna, workshops in crafting, spells and potions, and storytelling with Paul Timoney at 3pm.
Established in 2011, Angel Art started as a tattoo and piercing parlour, and it now has its own dedicated space upstairs at the new premises.
Comprising a large studio area with multiple cubicles, there are different zones for body piercing and tattoos, including airbrush and henna. Because of the extra floor space, guest artists will now be a regular feature, as well as the resident tattooists and piercers, to allow for more choice in body art journey.
Joanne has also added more products to the extensive body jewellery range and custom clothing to suit.
There's a workshop space where information evenings and courses on different streams of holistic therapies and psychic development, from mediumship to reiki, kinesiology to shamanic practices and everything in between, will take place throughout the year.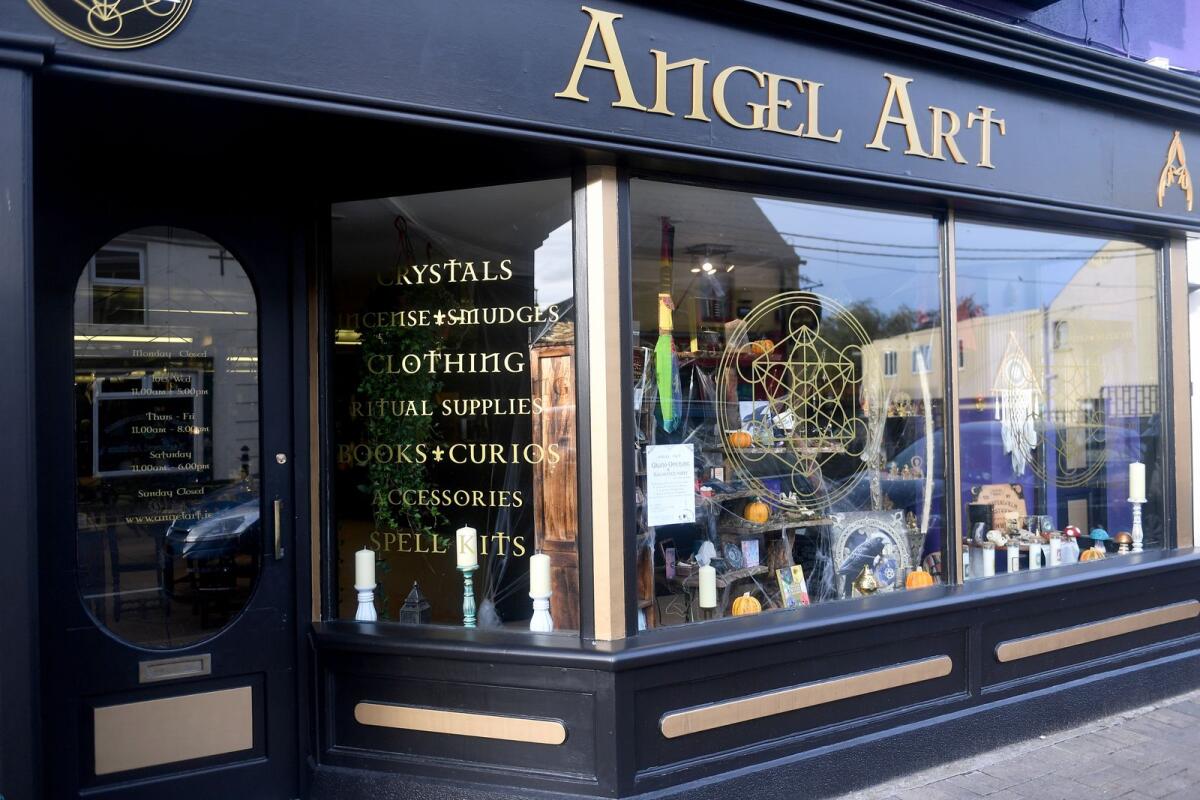 Curios and spiritual supplies
Downstairs is the new gift shop, a feast for the eyes and the senses, where a colourful array of cards and crystals, incense and smudge sticks, rune stones and spell kits, are available.
A handmade clothing range, ethically sourced from Nepal, bold in detail and stunning in colour, is available, as well as a library of books to assist those on a path of discovery.
There's a seating area where customers can enjoy a cuppa as they browse the many curios on display, read a book, or even play a game of chess!
There are aromatic oils, candles, journals, tapestries and wall hangings - you name it, Angel Art has it.
"We have always striven to provide an open and inviting service to our clients, creating memorable experiences and providing the skills to bring someone's tattoo or piercing vision to reality," says Joanne. "And we have built a loyal client base in that time and a lot have become friends".
"Getting a tattoo or piercing can be quite a personal experience and one thing we have learned is that a lot of us are searching for more holistic approaches to life, more diversity - just something different."
"People searching for something different will find something to suit them in here and hopefully, in time, we'll become a hub for people embarking on their spiritual journeys."
Newsletter
Stay up to date with the happenings at Angel Art, 42 Austin Friars Street, Mullingar. Check out Angel Art Curios and Spiritual Supplies on Facebook and Instagram, or sign up to the newsletter for offers, guest artists, body jewellery, and upcoming events, workshops, new products, sabbaths, spells, ritual and holistic information.