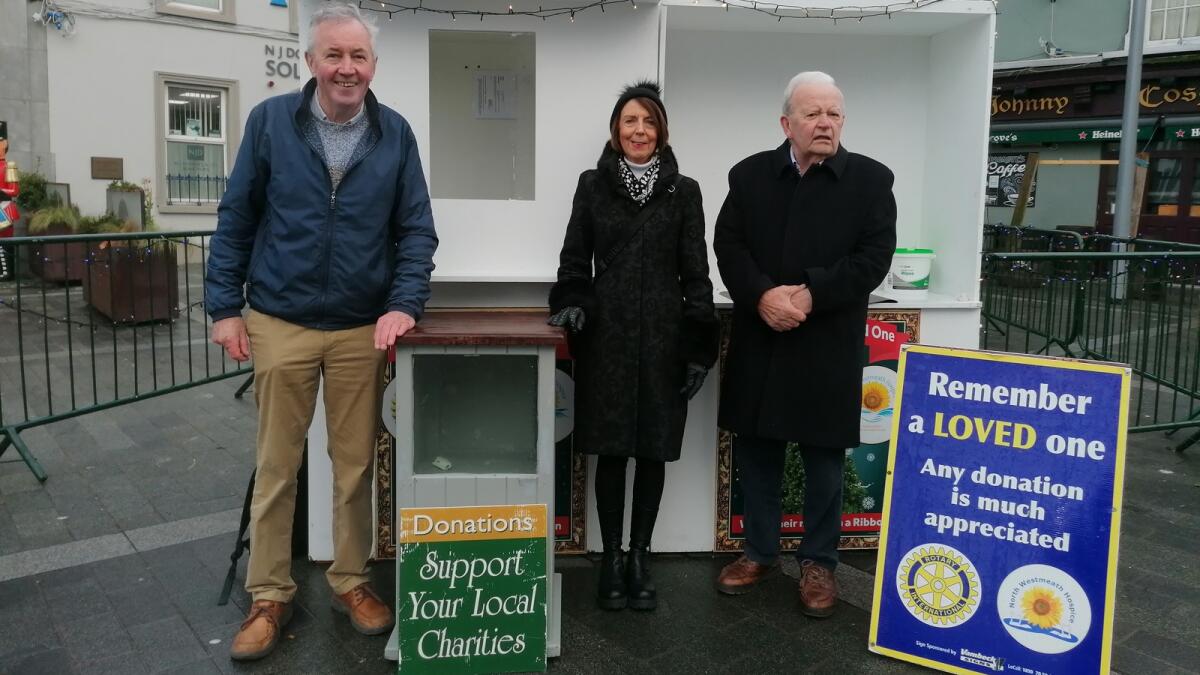 Mullingar Remembrance Tree returns for 14th year
Each yellow ribbon on the Remembrance Tree that stands on The Square at Dominick Street at Christmas represents the precious memory of a loved one who has passed.
The Remembrance Tree now, in its 14th year, opened on Dominick Street today, Thursday December 8.
Organised jointly by Mullingar Rotary Club and North Westmeath Hospice, it is a major fundraising initiative for both, to help with their work, and to distribute funds to local charities.
This annual event is more than just about fundraising for worthy causes – it also provides members of the community with an opportunity to pause and remember loved ones they have lost and to place their names on one of the yellow ribbons, which then decorate the tree.
A Mass will be held in January for all those whose names have been placed on the Remembrance Tree.
Members of Mullingar Rotary Club and North Westmeath Hospice will be in attendance at the familiar white hut beside the tree on Dominick Square from Friday December 16 to Saturday December 24, with.
Pat Webb, Mullingar Rotary Club president, noted that the Remembrance Tree has now become a part of the way the people of Mullingar and surrounding areas celebrate the festive period.
Remembering a loved one and honouring their life by donating funds, in their name, to local charities is in the spirit of the season, said Pat.
"This will be my sixth year at the tree, and I always appreciate very much the few minutes conversation I get to have with passers-by as they share memories of their deceased loved ones – a child who has lost a grandparent, an elderly person who has lost a sibling or someone who has lost a spouse."
Pat also pointed out that the funds raised will go towards local charities.
Margaret Claffey, chairperson of the North Westmeath Hospice, said their share of the funds raised will be donated locally to the Hospice Specialist Palliative Service.
The tree also provides the opportunity to create new memories and traditions as a lot of young families who make a visit to the tree see it as important as visiting Santa with their wish list, said Pat.
"We hope to have a number of school choirs and bands at the tree over the period to provide some festive cheer.
"We encourage all members of the community to visit the tree and share memories of loved ones. As in recent years, people can donate by tapping a card as well as by the traditional method of cash contribution into our donation box."
All those working on behalf of Mullingar Rotary Club and North Westmeath Hospice wish everyone in Mullingar a very happy Christmas and safe and prosperous new year.