Milltownpass shining bright this festive season
Milltownpass Tidy Towns celebrated the beginning of the festive period by hosting an event to switch on the Christmas lights in the village yesterday, Saturday.
Despite bitterly cold conditions, a large crowd gathered as DJ Sarge played festive music to kick the celebrations off.
There was carol singing from Milltownpass choir accompanied by the talented Conor Cleary on guitar, and a special guest appearance from Santa, who brought treats for the kids.
Local student Adrian Grzelak was called upon to do the honours and throw the switch for the lights on the new 21-foot Christmas tree.
Whereas last year a real Christmas tree was used, this year the Tidy Towns group decided to take a more sustainable approach and make an artificial tree that could be reused every year.
Tidy Towns PRO Aoife Lynskey said: "The tree this year was the result of many local groups and businesses coming together to create something lasting that can be reused within the village for many years to come.
"The original structure was built by Cole Arc Engineering and extended to more than 21 feet high by our CE worker Christy Wright, with the support of Abby Gate Craft.
"The Tidy Towns volunteers then spent weeks painting it and covering it with artificial conifer, one fake branch at a time, and the effort was worth it as we're delighted with how it turned out."
The event with was finished with a Christmas tractor run organised by Corrigan's Bar in Rochfortbridge, which was in aid of multiple sclerosis and motor neurone disease support charities. It passed through the village at around 5.30pm as attendees looked on.
Milltownpass Tidy Towns would like to thank everyone who attended on the evening and all who supported a raffle on the night.
They also thanked the following groups and business for their support; 9th Westmeath Scouts, Milltownpass Choir, DJ Sarge, Skyclad, Creative Stars, Lilliput Adventure Centre, Lough Ree Distillery, Healey Kitchens, Mo Phaisean Art Gallery, Active Inflatables, Grennan's Pub, Abbey Gate Craft, Cole Arc Engineering, Milltown Passive Builds.
A special thanks also to the volunteers who worked hard this year to make it all happen.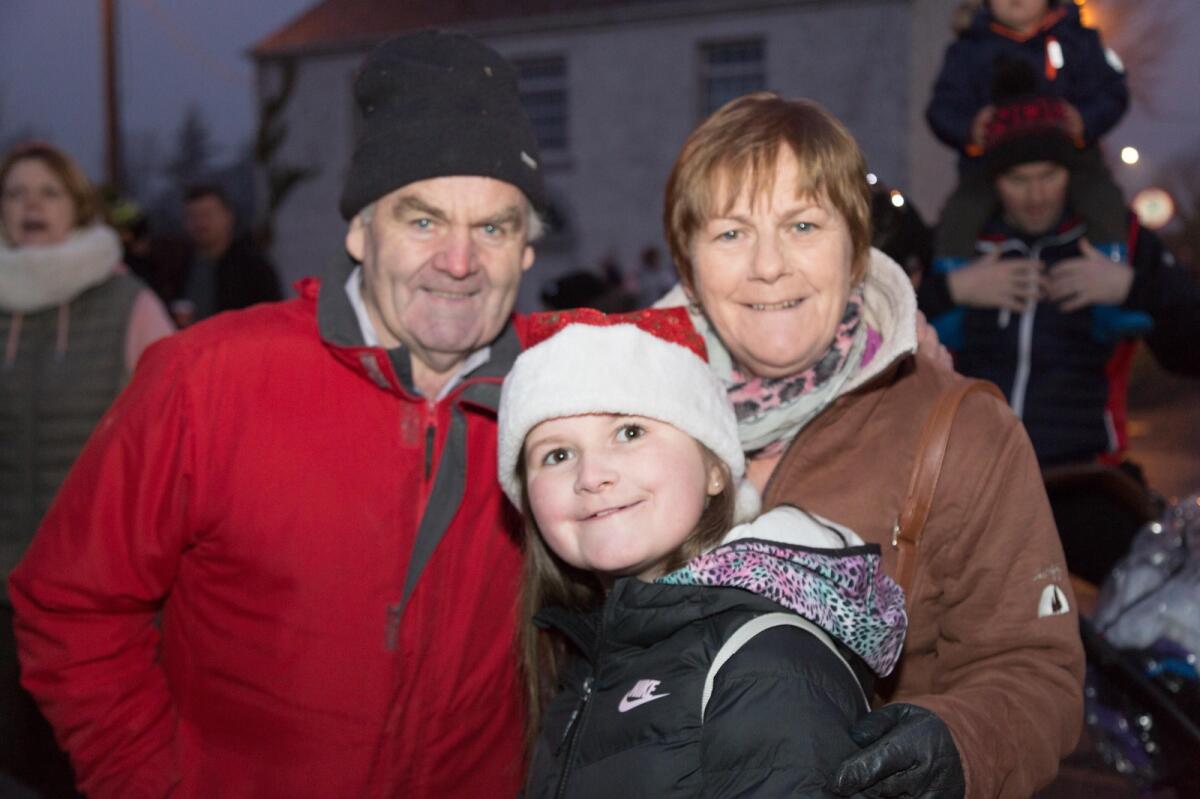 READ ALSO
Rochfortbridge lights up for Christmas