Santa Paws and Mrs Claus light up children's ward
When the team from Cian's Kennels showed up at Mullingar hospital last Thursday morning, they lit up the faces of everyone they had contact with, and none more than the children in the paediatric unit.
Evelyn Neary arrived with Santa Paws and Mrs Claus and a car boot full of goodie bags to brighten up the day for the young patients, in memory of her son Cian.
Dressed in seasonal red, also the colour of Cian's Kennels, Evelyn and company created a Christmas buzz around the entrance to the hospital and as they made their way along the main corridor and upstairs to the paediatric ward.
Evelyn said: "The reason we're here today is Mullingar is our local hospital – Cian spent a lot of time here – and every Christmas since he passed away, we have visited – we don't want to forget them.
"They were part of the journey, and while we can't offer the pet-visiting facility here, because there wouldn't be that many long-stay children, we always want to make sure that we recognise the amount of time that Cian spent here.
"It's important to me to make sure he's remembered, for his love of dogs and his general love of life, here in Mullingar as well as in Crumlin hospital."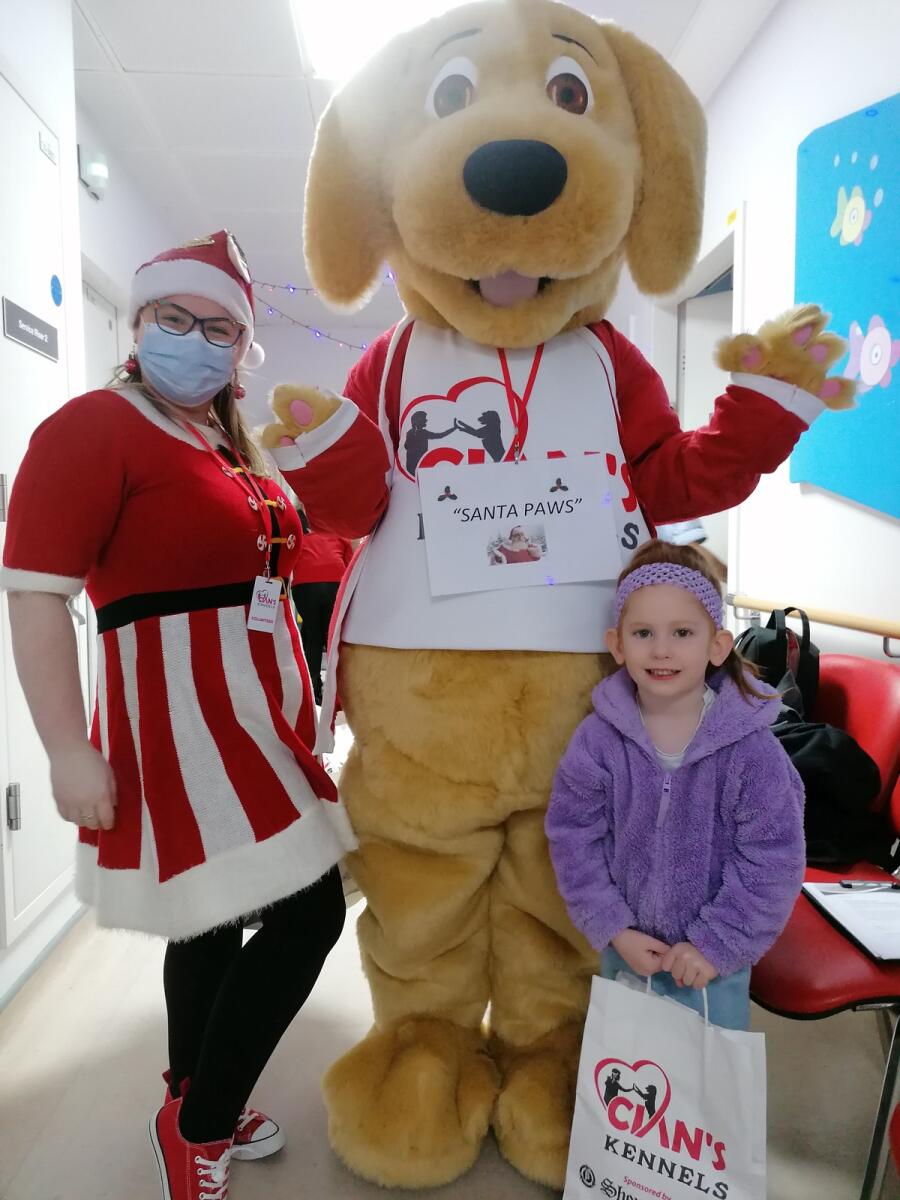 Evelyn and her family set up the Cian's Kennels charity in March 2020 in memory of Cian Neary, her 15-year-old son, who spent time at the hospital in Mullingar and at Our Lady's Children's Hospital in Crumlin after he was diagnosed with a rare form of lymphoma in September 2018.
Cian sadly lost his battle for life on September 23, 2019.
"The reason we set up the charity was to help families have their pets close to them, and why that was important to us was that when Cian was very ill, when he was first diagnosed, he had asked for a new puppy, and we got a golden Labrador called Cooper.
"Cooper became a huge part of Cian's life during his illness, and when he became very ill, in the last couple of months of his life, and was based in the hospital in Crumlin, we brought Cooper to Dublin (we're from Longford), kennelled him near the hospital and every single day right up till the end of Cian's life, he visited Cooper or Cooper came over to visit him at the hospital."
"There was a lot of logistics in that, a lot of expense, taxis over and back to the kennels, and the rest of the family was based in Longford trying to do school and work and everything else, and at one stage Cooper got sick, so we had veterinary bills, and there was the transport up and down to Dublin.
"After Cian passed away, we thought maybe there was a way we could do this that would be free for families, structured, safe, and still achieve what was achieved for Cian, so with that in mind, we set up Cian's Kennels."
"Covid kicked in soon after, but in a way that gave us lots of time, to do all our paperwork, including charity registration, setting up bank accounts and a board of directors, all the things you have to do. This year, has been a fantastic year for us, on January 10, 2022, we started work on a pet visiting facility at the back of St John's Ward in Crumlin. It was about an eight-week build, sponsored by lots of local and Dublin based businesses, and on May 20 we officially opened, what was the first of its kind in the world – a pet visiting facility based at a children's hospital."
Evelyn said the build had a lot of help and guidance from the hospital in terms of infection control; it's hospital grade fit-out; the unit was sponsored by Steeltech, and it's a modular structure with a recreational area for families, hospital grade bathroom facilities, wheelchair accessible, an indoor and outdoor areas for the dogs.
"The service is best described by giving you an example," she said. "A family from Bundoran whose 10-year-old child was undergoing life changing surgery wanted to have the pet up a couple of days after the surgery to give the little girl a lift. We have two vans on the road, so our midlands based van set out with two volunteer drivers for the family home, collected the dog, brought it to Mullingar, which has become our meeting point, met the Dublin driver in the other van, passed over the 'luggage' and brought the dog to Dublin.
"When the dog gets to Dublin, we have a partnership with DSPCA, and they kennel the dogs, and make sure they're well looked after, and then, by appointment, at the family's request, we bring the dog to visit the child at the hospital. The family book the unit, and they have it to themselves for the time, which is important from an infection control point of view, so they spend their time, then a volunteer collects the dog and returns it to the DSPCA; the unit is cleaned then and ready for the next visitor.
"We do full veterinary checks on all pets before they travel, make sure all the vaccinations are up to date, if there's any cost we cover it, including the kennel costs at the DSPCA, and we handle all the logistics, so all the family need to do is contact us and we take it from there, and we are all volunteers."
The service is available countrywide, is totally financed by fundraising, run exclusively by volunteers, including a coordinator in Dublin, and panels of volunteer drivers there and in the midlands.
Director of nursing delighted with visit
Katherine Kenny, director of nursing was delighted with the visit. "It's been a fabulous this morning, to meet Cian's family and to see their dream come to fruition with Cian's Kennels. We are privileged that they thought about calling in here. Cian received care here over the years and isn't it a fantastic tribute to him and his memory that they now have Cian's Kennels set up and operational? The impact that will have on children and families in the future is immeasurable and will create many special memories – and to see the joy in Cian's mam's face this morning when she was taking to us was a huge tribute to him."
Ms Kenny said it was her first time to met Evelyn, but she is "well aware of Cian – his picture is up in the paediatric ward and the team have often pointed him out and mentioned Cian's Kennels, so it's a privilege to be here this morning and to meet them".
Prof Michael O'Grady, consultant paediatrician, said: "The memory of our patient Cian Neary lives long for us here at the paediatric ward. He faced a lot of issues in terms of illness, being diagnosed with Crohn's disease first and then unfortunately, later a rare form of lymphoma.
"I think Cian coped very well, certainly to us, with his illness – everybody has good days and they have bad days, and you never saw Cian angry or upset; you never saw him have a tantrum or an outburst, he did everything and was polite, he did things with a smile on his face and I think that's part of why we have such fond memories of him.
"The charity is a fantastic initiative – when somebody has a significant illness, family members are around, but for a lot of people, their relationships with their pets are important too, they're considered a member of the family, and sometimes when pets pass on they're grieved for like a family member, so I think it's really important from that point of view."