This week: a novel about Andy Warhol's typist; and a tale of cousins in criminal NY
This week there's a novel about a young girl who finds herself in the unlikely position of being Andy Warhol's typist, there's a biography of one of the world's leading codebreakers, a woman from Galway, there's a story of love, nature and resilience set in the beauty of the Colorado landscape, and there's a tale of two cousins lured into the underbelly of New York's violent criminal world.
Nothing Special, Nicole Flattery, Bloomsbury, €23
The year is 1966 and Mae, a New York native with an alcoholic mother and a dubious kind of half-stepfather, has had enough of a home life that's far from ideal and her high school, where she's shunned after making a mean comment about another girl to a friend whom she thought she could trust. She lands a job as a typist for Andy Warhol. Not as glamorous as it sounds, and fear not if, like me, you're no Warhol fan. He's not in it! Or at least his presence and the typing up of his book serves purely as a backdrop for the ever-changing New York of the '60s and Mae's naïve attempts to keep pace.
This story focuses on Mae and her new friend Shelley, also working for Warhol on transcribing tapes he recorded for a novel (that actually happened). It veers from Mae's position in 2010, well into middle age by now, and with her mother in a nearby nursing home, back to her 17-year-old self; an innocent abroad convinced she's a sophisticated, urbane young woman. It's a superbly written novel, with slicing observations on vanity, hedonism, what makes art (and what doesn't) and it's a breath of fresh air, a literary work from a young Irish writer that isn't semi-autobiographical!
Go As A River, Shelley Read, Doubleday, €16.99
A beautiful debut, this novel is as full of the rugged, wild and beautiful landscape of Colorado as it is of the characters who inhabit it. In a community that exists no longer, the story is set in the small rural town of Iola, on the banks of the Gunnison River, which was dammed to create the Blue Mesa Reservoir. The novel opens in 1948, when young Victoria's mother has died in a car accident along with her aunt and cousin, and she's expected to step into her mother's household role at the age of just 12. This essentially involves running the house for her father, a peach farmer, her invalid uncle and her angry, hostile brother. She's a slave, really, cooking, cleaning, washing and doing every conceivable household chore.
At 17 she falls in love with Wilson Moon, a young man of Native American descent, new to her small town. But at the time in Colorado, American Indians were considered not second-class citizens, but almost no class of citizen at all. Torie's first love, and her encounter with the outrageous bigotry of her own community, will shape the rest of her life. A highly recommended debut.
Carmen and Grace, Melissa Coss Aquino, Head of Zeus €18.99
Gangland crime in New York, as in other cities and towns worldwide, is mostly controlled by men. Reel back to the 1990s and try to imagine New York gangland crime controlled by women. It seems a big ask until you read this novel. Carmen and Grace are cousins, products of broken homes and girls with bleak futures, despite their academic capabilities. Their mothers are both drug addicts and so they wind up under the wing of New York queen of crime, Dona Durka, to whom they are both related. This woman is the female equivalent of Mario Puzo's Godfather; Dona Durka is The Godmother (without the Fairy prefix!). Business is booming until Dona is diagnosed with cancer and before she can get her affairs in order, she's shot dead. Much of the story involves the mystery of who shot Dona. The two girls must now take the reins, although by this point they are in conflict with each other. This is an interesting and highly original take on the world of crime and on how differently these empires are run when the lead players are women instead of men.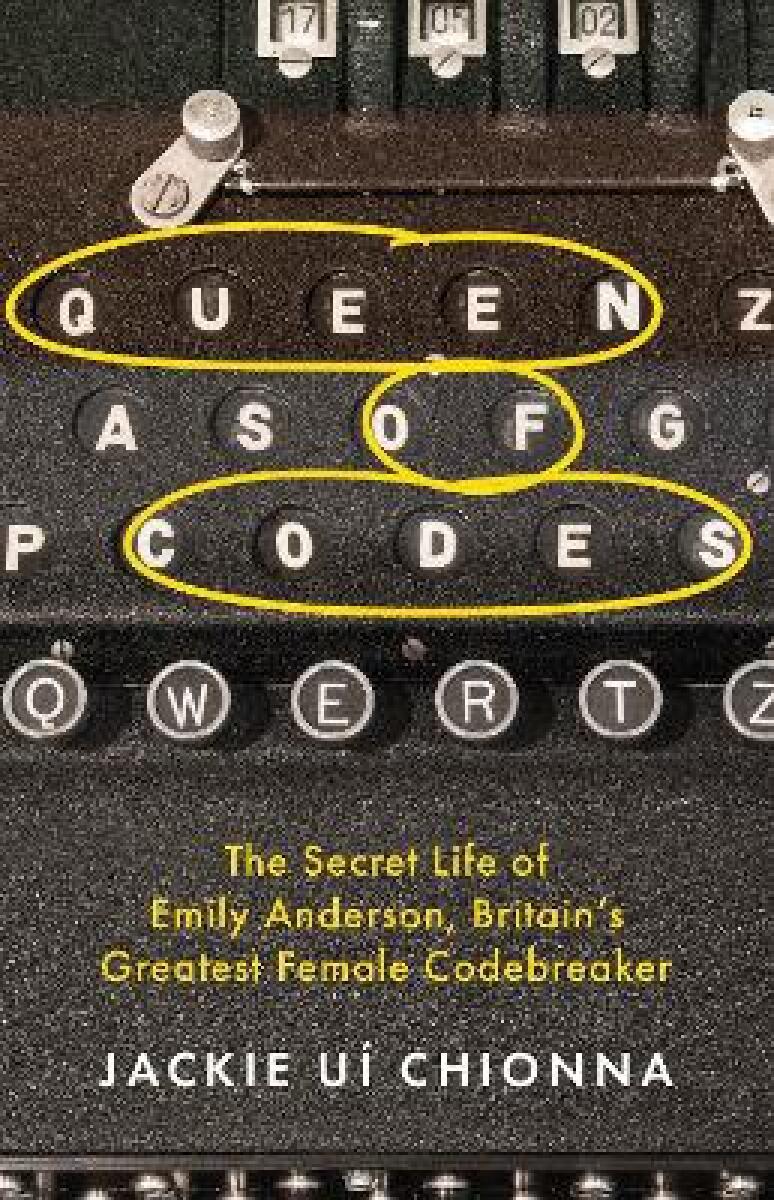 Queen of Codes, Jackie Uí Chionna, Headline, €31
When we think of codebreakers, we usually think of Bletchley, which was a huge operation involving lots of admin and other staff. And even if we've only watched a movie or two, we know that there were women involved in codebreaking. But of course, codebreaking existed before and after the Second World War, and codebreakers were largely hidden from the public in the national interest. One of the world's leading codebreakers was a woman from Galway named Emily Anderson and this is the fascinating story of her life.
In addition to working as codebreaker by day, Anderson was a keen musicologist and took to deciphering Mozart's and Beethoven's letters after working hours, a project that repeatedly put her in contact with people from 'enemy territory' (Germans). Anderson never married but did live with several women over the course of her adult life. The book opens with an introduction that details the funeral of 'retired civil servant', Emily Anderson, in 1962 in Hampstead, London. Her family was represented by just one cousin, but the church was packed to capacity with those who knew her and had worked with her. I've no idea why this woman seems to have been forgotten – Anderson is obviously a significant and fascinating historical figure, as well as being one of our own, but we should all be grateful to author and historian Jackie Uí Chionna that this comprehensive and very readable biography is finally here.
Footnotes
Art lovers please note a new exhibition in Dublin's IMMA titled Championing Irish Art; The Mary and Alan Hobart Collection. This is a private collection with paintings by Jack B Yeats, Michael Farrell, William Orpen, John Lavery and several others, never before seen by the public. These paintings will be returning to their owners in July, so time is of the essence. See imma.ie for details.
The Goldsmith Festival is running from June 2 to 4, the bank holiday weekend, in Ballymahon and other locations in Longford. See olivergoldsmithfestival.com for details.
The Borris Festival of Writing and Ideas has become a huge event in the arts calendar and takes place in Borris House in County Carlow. This year it's running from June 16 to 18th and tickets sell fast. See festivalofwritingandideas.com for details.