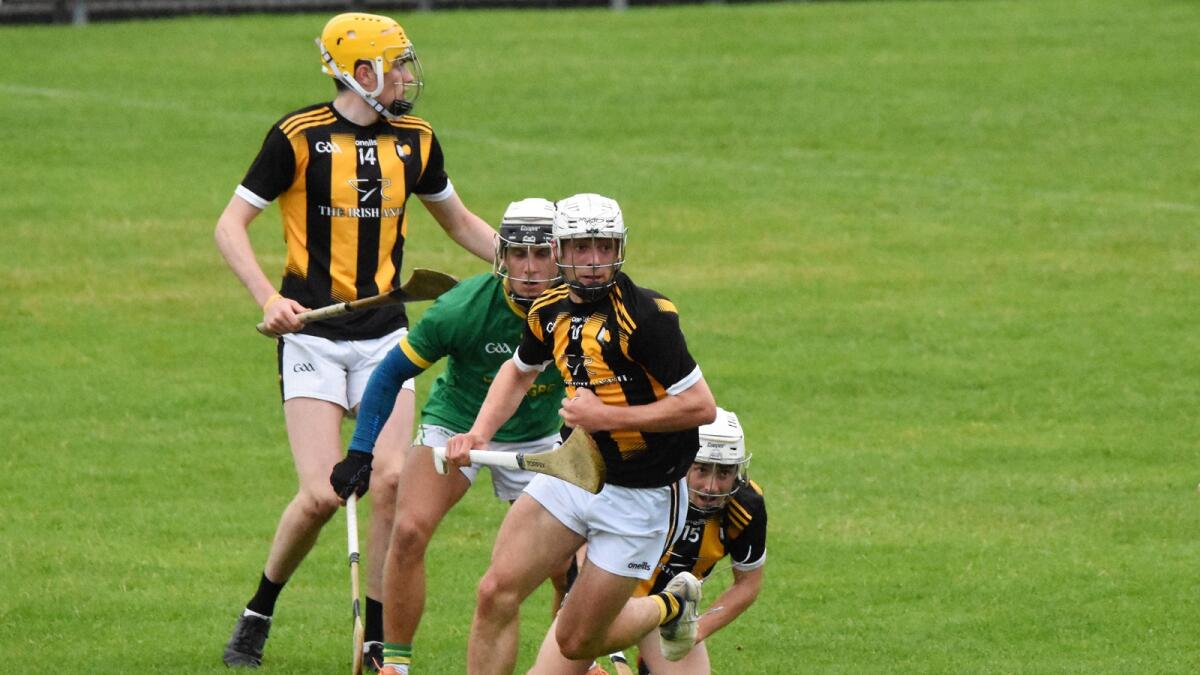 Champions consign Clonkill to their second defeat
Paul Doolin
Defending Examiner Cup holders Castletown Geoghegan gave more notice that they are seeking back to back titles for the first time since the 50's with this statement win against kingpins for the last number of years, Clonkill, at TEG Cusack Park on Saturday.
This game was end to end at times and a great advertisement for the small ball game in what were atrocious weather conditions at times, and both teams deserve great credit for the feast they presented. But Castletown just about deserved the win with Niall O'Brien in simply unmarkable form and at times he totally dictated play such was his influence. While Clonkill held them at bay for long periods, when the game was in the melting pot Castletown found the resolve to consign the Loughegar men to their second straight loss. They now face the possibility of not qualifying for the first time in many years.
Alan Mangan's Castletown Geoghegan charges now look certain to make the knock-out stages and in this form, it will be a really good side that denies them that two-in-a-row, while for Clonkill it is now win or bust in their next outing.
Clonkill started the better and a Brendan Murtagh free and a fine score from Oisín Loughlin established an early lead, but Castletown settled and two Niall O'Brien frees and excellent scores from Cormac Jackson and Aonghus Clarke saw them take the initiative. Murtagh (free) and Luke Loughlin, from a narrow angle, restored equality before a sublime Niall O'Brien strike regained the advantage for Castletown. But the Loughegar men then hit four in-a-row with Alan McGrath, Jordan Smyth and two from Murtagh moving them ahead. However, they did lose Josh Murtagh to injury which was a blow.
O'Brien replied from a dead ball, but another Murtagh free and Peadar Scally from play kept Clonkill four to the good. However, three O'Brien frees and a David O'Reilly minor from play had the Black and Amber's level as we headed into added time at the end of the half. Oisín Loughlin restored the lead for Clonkill with a super point, but in added time O'Brien found Jack Gallagher for an excellent goal. O'Brien soon added a '65' after David O'Reilly was denied a second major for Castletown by a wonderful save from Andrew Mitchell. At the short whistle, Castletown led by 1-11 to 0-11 but they had played with a very strong wind.
PRESSURE
Peter Clarke extended that lead from the throw-in but Murtagh added two frees to keep Clonkill in touch before O'Brien (from play this time) and Luke Loughlin exchanged equally fine points. It was anybody's match at this stage with O'Brien adding a free, but Clonkill then struck for a major when McGrath found Scally and he rifled the leveller to the top of the net. Conor Murphy and Morgan Gavigan restored a two-point lead with two marvellous team scores, but back came the Green and Gold again with Luke Kenny and then sub Anthony Price firing over to regain parity with replica strikes.
As we headed to the last quarter it was all to play for. O'Brien and Murtagh exchanged frees; O'Brien struck two from another parish with a free against the wind. Murtagh pulled one back, but the defining score came when Castletown substitute Joe Clarke somehow managed to cross the ball under pressure for O'Brien to flick a beauty to the net for the second goal. Despite late scores from Daragh Egerton and a Murtagh free that was deflected over the bar, and a last gasp effort from the latter that could not find the onion bag, it was Castletown who had held on to claim the points and yet another win. Their experience certainly showed at crucial times.
Scorers - Castletown Geoghegan: Niall O'Brien 1-13 (9 frees; 2 '65's), Jack Gallagher 1-0, Morgan Gavigan, Aonghus Clarke, Peter Clarke, Cormac Jackson, David O'Reilly and Conor Murphy 0-1 each.
Clonkill: Brendan Murtagh 0-10 (8 frees; 1 '65') Peadar Scally 1-1, Oisín Loughlin and Luke Loughlin 0-2 each, Darragh Egerton, Jordan Smyth, Alan McGrath, Luke Kenny and Anthony Price 0-1 each.
Castletown Geoghegan: Ciaran Glennon, Neil Kirby, Johnnie Bermingham, David Maloney, Aaron Glennon, David Lynch, Morgan Gavigan, Plunkett Maxwell, Aonghus Clarke, Peter Clarke, Shane Clavin, Niall O'Brien, Cormac Jackson, David O'Reilly and Jack Gallagher. Subs: Conor Murphy for Kirby (38 mins), David Fennell for Bermingham (40 mins), Joe Clarke for Jackson (43 mins), Ciaran O'Brien for Clavin (54 mins).
Clonkill: Andrew Mitchell, Shane Power, Darragh Egerton, Andrew Shaw, Mark Keegan, Paddy Dowdall, Josh Murtagh, Rian Holding, Oisin Loughlin, Jordan Smyth, Peadar Scally, Luke Loughlin, Brendan Murtagh, Alan McGrath and Matthew Glynn. Subs: Luke Kenny for Josh Murtagh (8 mins), Anthony Price for Glynn (46 mins), Alan Dowdall for Holding (48 mins), Niall Dowdall for Smyth (57 mins).
Referee: Alfie Devine, Castlepollard.
Examiner's Eye on the game
Man of The Match
Niall O'Brien (Castletown Geoghegan): The ageless Brendan Murtagh stood out for the losers while Egerton and Smyth were others to impress. Aonghus Clarke, Gavigan, Peter Clarke and indeed Joe Clarke, on his introduction, were excellent for the defending champs, but Niall O'Brien was imperious and his 1-13 return was worth the accolade on its own.