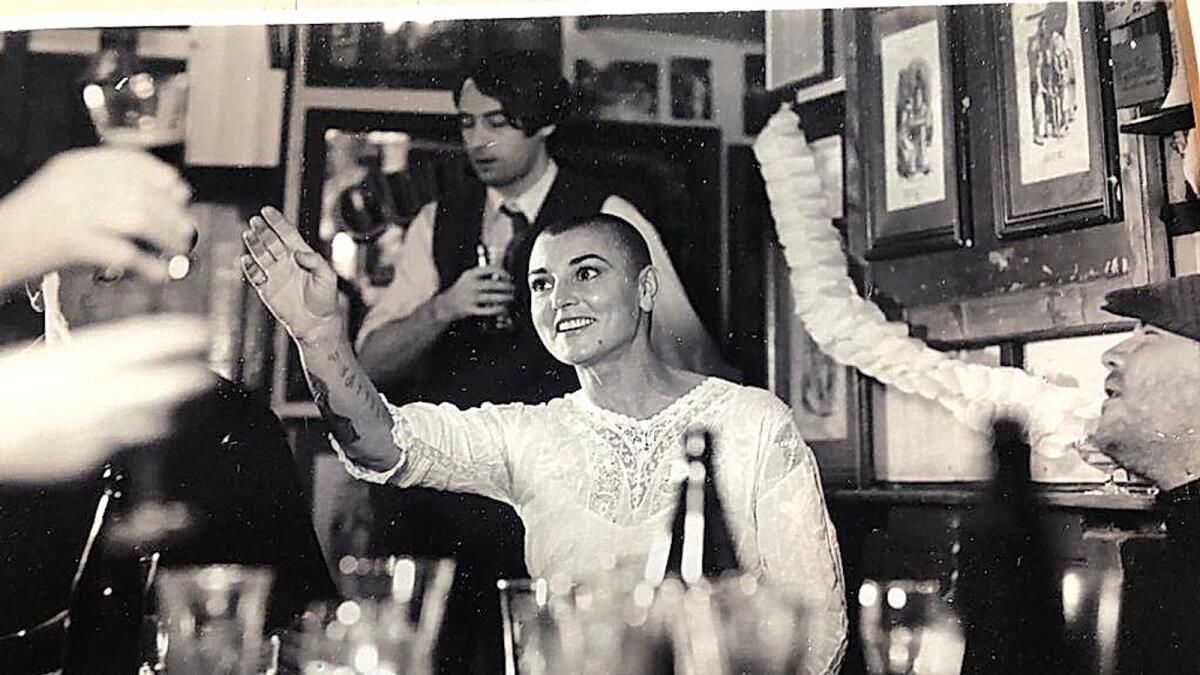 Sinéad loved visiting Westmeath
The late Sinéad O'Connor loved visiting Westmeath and in recent months, had been recording at Grouse Lodge Studios in Rosemount, as she had done many times in the past, telling owner Paddy Dunning that she wanted to live here.
"She was always saying she wanted to live here and I think she was actually serious," begins Mr Dunning, who had known Sinéad since they were 18. "It's been great to see her fly through the universe on an international level - she was a megastar."
The country went into shock on Wednesday evening last as the sad news broke that singer, songwriter and activist, Sinéad O'Connor had died, aged 56.
She was found at her home in London and pronounced dead at the scene, with the O'Connor family releasing a statement confirming, "Her family and friends are devastated".
"Lots of people have always loved her but it's kind of sad now when she's gone that people only celebrate her true importance and magnificence, and the true star quality that she possessed," continues Mr Dunning. "She had her problems like everyone else and we would have worked with her through all of that," says Paddy, who had the surreal experience of looking at Grouse Lodge Hall of Fame images, where Sinéad features, when he received a message to say she had passed.
"It's sad to see her go because she had so much more left to give. Her voice was so powerful and haunting, and yet she could drop it to a whisper. She was special, she was special to everyone."
Sinéad also recorded the video for her song, 4th and Vine from the album How About I Be Me (And You Be You), on location at The Drake Inn in Castletown Geoghegan in 2013.
It was the first video she had appeared in for ten years , and publican Andrew Drake recalls the experience.
"It was amazing to have Sinéad in the bar. Firstly, it's not too often that you have someone that famous knocking around for the whole day to record a video," he says. "I'd never seen a video production before and it was surreal to see all the work involved.
"She was a very shy person.
I think it was the first video she had recorded in a while, and you could see that she was nervous," recalls Andrew. "I was a fan of her music like everyone else, she was a fantastic singer; How could you not be a fan of her music? She was outstanding," he states. "I was very sad to hear of her passing. You don't expect to hear that news about someone so young," he concluded.
Songwriter and musician Johnny Cronin called
O'Connor a "lovely person" who was "very optimistic".
"We met her with Shane (MacGowan) and Victoria Mary Clarke a few times. She was an amazing person, and talked about music and songwriting, and was very optimistic in that regard," he begins.
"I remember her dancing up the front of the stage when we were playing Shane's 60th birthday at the National Concert Hall. BP Fallon had joined us on stage and we were singing Van Morrisson's Gloria. That was a good memory.
"She told us to be careful of what we put in our songs, that songs can act as a mantra and to be careful of what you invite it into your life," continues Johnny Cronin.
"She was a great warrior, fearless, and an amazing songwriter, and very honest about difficult subjects. She spoke about the church and abortion in Ireland in 'Three Babies', the famine, and about grief in 'Little Grief Song'. She was a seanchaí and a great interpreter of songs.
"Everyone knows 'Nothing Compares 2 U', but she did big band songs with 'Success Has Made a Failure of Our Home', and Sean-Nós Nua, all the Irish songs from 'The Foggy Dew' to 'He Moved through the Fair'.
I think her greatest record was Universal Mother, which was a healing record."