Harriers make medal winning start to cross country season
Despite the terrible yellow warning weather forecast of heavy rain and strong winds, the Star of the Sea Cross Country in Meath last Sunday was held in near ideal conditions, certainly for the younger ages, and though the wind picked up a bit later in the day, the rain mostly held off and there was only the occasional light rain shower that didn't last long, so we didn't get drenched like we expected.
This has been the opening fixture for Mullingar Harriers for many years, and we had competitors in 14 of the 16 juvenile races and competitors in the women and men races too, so it was evident that Mullingar was there in force.
In the juvenile races, there was individual medals for the top six finishers in each race and team medals for the top three teams. Mullingar juveniles won 14 individual top six medals, including first place for Chloe Bell and Cillian Galvin, and team medals in nine juvenile races. Vinny Connolly won the men's race, leading the Mullingar team to second place. Our masters were also in great form, as Claire Lennon and James Carton won prizes in their master categories.
The first race of the day was the U9 girls 500m, where Heather Kelly finished fast to take third place; Rachel Robinson also finished well, it was a pity we didn't have a third girl to make up a team.
Having just missed a medal last year, Helen McGrath made no mistake this year in the U10 girls 500m and came through for fifth place, and with great support from Roisin Keane, Lyla Lennon Currill and Rose Harte, the girls placed second club. We didn't win any individual medals in the U10 boys 500m but Donagh Bourke, Daniel Brady and Olly Wright put in great efforts, finished well up and were rewarded for their efforts with bronze medals for third club.
Amelie Downes was our sole representative in the U11 girls 1,000m and even though she finished out of the medal places, she can be satisfied with her efforts. We had no problem fielding a team in the U11 boys 1,000m, where Cillian Gavin sprinted hard in the final stages to finish second, just ahead of his brother Conor Gavin in third, and with terrific team running from Aaron Robinson and Fintan Harte. The boys were delighted to finish first club.
Our first individual victory came from Chloe Bell in the U12 girls 1,500m, where she raced clear of the field to win by a distance and with Clodagh Keane (third), Amelie Kelly and Liadan Gavin providing the vital scores, the girls finished first club by a comfortable margin and richly deserved their gold medals.
Being Mullingar's only representative in the U12 boys 1,500m meant that Harry Flanagan knew it was up to himself if he wanted to win a medal, and after a great race over the tough hilly course, he was delighted to finish in fourth place and secure an individual medal. Also running over one lap, Aoibhe Martyn led the Mullingar team home in the U13 girls 1,500m and with great support and team packing from Emily Tully and Lucy Mulvany, the girls finished second club to add to the Mullingar medal haul.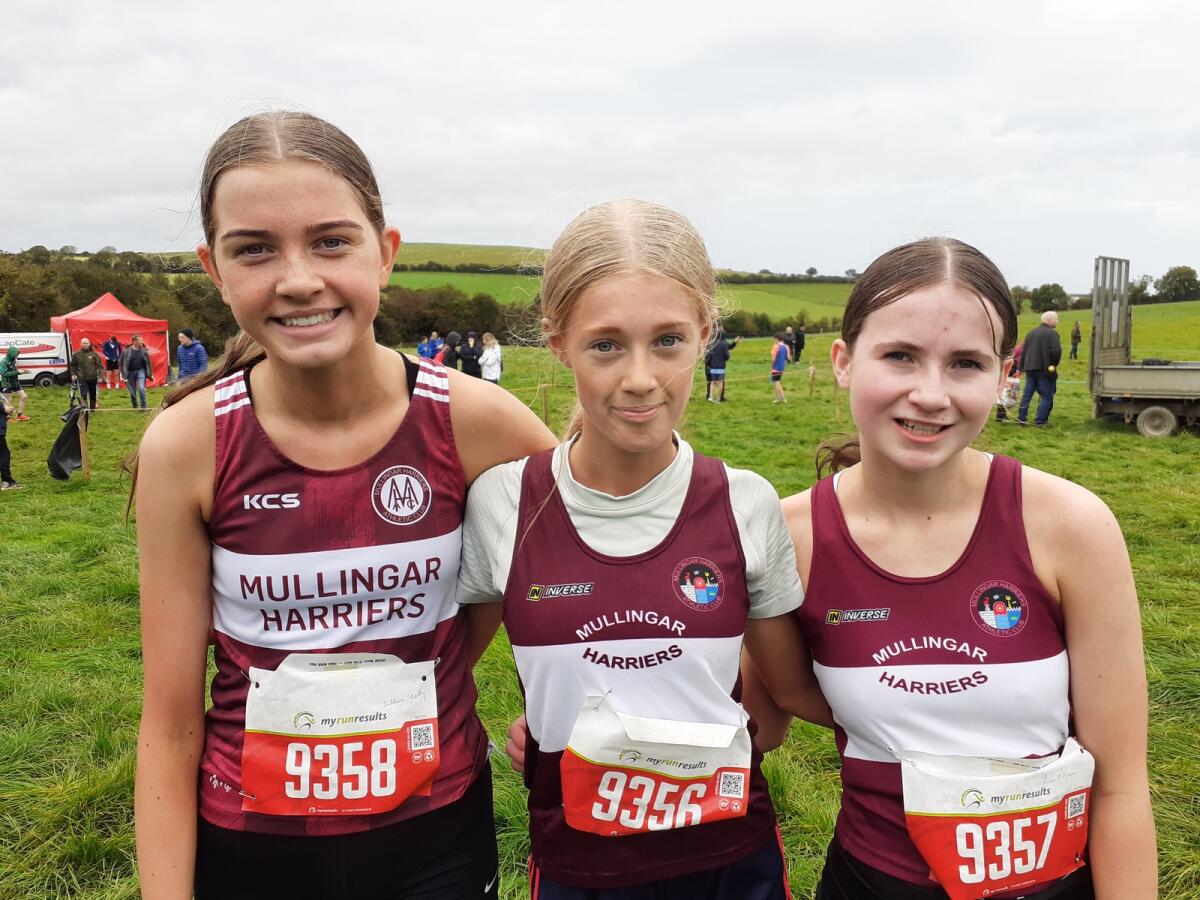 Our second individual victory came in the U13 boys 1,800m, where Cillian Galvin romped home in first place and with Antonio Bertolo (second), and Louis Kiernan, Aonghus O'Reilly and Joel Kelly finishing strongly, the team finished a well-deserved first club. No individual medals in the U14 girls 2,000m, but seeing Beibhinn O'Reilly, Lisa O'Brien and Chloe Duggan finishing fast in prominent positions, we were confident of team medals, and that's exactly how it transpired as the girls finished third club and were delighted with their bronze medals. Cormac McGrath and Ciaran Mulvany finished well up in the U14 boys 2,200m and only for a third runner, we would have won team medals, but they can still be pleased with their performances.
Tianna O'Leary led for most of the U15 girls 2,200m and though she was passed in the closing stages, she continued to race hard to the finish, crossing the line in third place and with strong finishes from Blathnaid Peters and Emma Lagan, she led the team to second club and the silver medals. Daniel Boyle was our only representative in the U15 boys 2,500m and though he finished out of the medal places, he can be satisfied with his efforts on the tough hills.
The juvenile programme ended with the U17 boys 4,500m, where Mullingar fielded a strong team. Running strong throughout, it was great to see Matthew Molloy race home in second place, and with Donagh Carey in third, Luke Greene fourth, Oisin Kehoe fifth and Conor Mulvany finishing well too, it was surprise that the Mullingar boys placed first club by a huge margin.
The women's 3,000m was a combined race for U20, senior and masters, and taking part in her first cross country race, Claire Lennon made short work of the tough hilly course and was delighted to place third in her master category and win a prize. The final race of the day was the men's 6,000m, which was a combined race for U20, senior and master men. With four laps to complete, Vinny Connolly bided his time in the opening laps, but when he decided to move ahead, he did so with ease, opening up a big gap and came home victorious. With great team support from John Whitelaw, Ian McCormack, Kris Foster, James Carton (third in his master category) and Kevin O'Brien, the Mullingar men finished second club. Conor McHugh had been having a good race but suffered a severe stitch on the final lap and had to stop – a wise decision – and we'll see him in future competitions.
This was an excellent opening fixture for Mullingar Harriers and everyone that took part will gain from the experience and take it into the season ahead.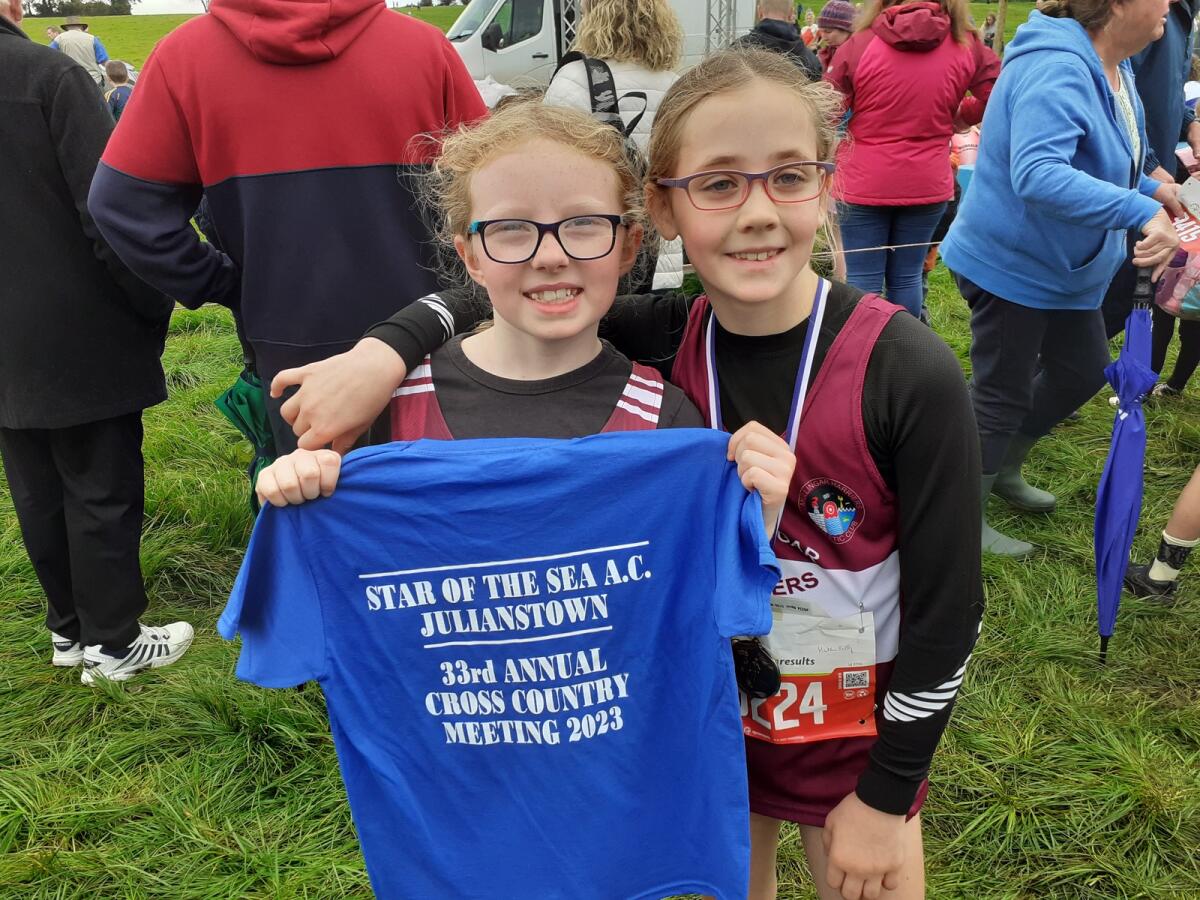 Help needed for Westmeath Schools Cross Country
Many of our younger members that competed at the Star of the Sea cross country will run again this week at the Westmeath Schools Cross Country in Belvedere. The programme commences at 11am for the secondary schools, followed at noon for the primary schools. This is an eagerly awaited event for many school children in Westmeath and as in previous years we expect large numbers, especially in the primary schools races.
It will get busy near start time, so we're advising everyone attending to come early. A big turnout is expected, so if any club members or friends can spare a few hours from 10am to help out, it would be greatly appreciated. Everything will done and dusted and the last race will be over by 2pm.
Victory for Claire Fagan in Rathfarnham 5k
The Rathfarnham 5k last Sunday morning drew nearly 1,000 athletes for what is regarded as one of the fastest 5k races in the country. The first and final kilometre are downhill and fast, the middle section is flat and fast, and there is only one short 400m uphill section, and with a strong field of club runners, everyone can look to be dragged along to fast times. This was certainly the case for Claire Fagan, who demonstrated that she is in terrific racing shape at the moment by finishing well up overall in 16 minutes 19 seconds and winning the women's race with a comfortable gap.
Also competing was James Keegan (15:48), Alan Crowley (16:49) Enda O'Carolan (17:34) and Ann Hall (19:24), third in her master category, and everyone was pleased with their performances in a quality race and showing that the Rathfarnham course is indeed quick.
Andrew Nevin in Berlin Marathon
Andrew Nevin has been getting better over the half marathon distance in recent times, slowly improving his best times with each outing, so it was only a matter of time that he would produce a big step improvement in the marathon, if he found the right race and right conditions. He chose the Berlin Marathon last Sunday morning, where he was joined by a huge field of nearly 44,000 to deliver a big performance. Andrew was careful in the opening stages and he reached the halfway mark in a swift 1 hour 15 minutes 33 seconds. He continued to run strong and was even able to increase his pace slightly in the second half, to produce a negative split and came home in a fantastic 2 hours 30 minutes 43 seconds, a huge personal best and a real breakthrough performance. It is a long time since a Mullingar athlete went close to 2 hours 30 minutes, making this a noteworthy performance.
Also in Berlin, Joan Flynn had been targeting a finish time close to 3 hours and while her early splits were spot on, taking her through the halfway point just outside 1 hour 30 minutes, she suffered a little from the 30k mark and finished in 3 hours 7 minutes 42 seconds, a bit off her pre-race target but an excellent performance nevertheless.
Grey Lake 10k
Loughrea AC hosted the Grey Lake 10k last Sunday morning, where conditions were wet and windy, not at all conducive to racing. Gerard Gavin used the race to test himself against the hills and was pleased to finish in second place. Linda Cunningham was happy with how she held up against the tough hills, finishing fourth woman and first in her master category.
Athletics Westmeath Cross Country
Everyone who takes part in the schools cross country is welcome to compete in the Athletics Westmeath Cross Country Championships. The first round this Sunday morning in Belvedere at 11am is for boys and girls under 10, 12, 14, 16 and a combined race for women and men under 18, 19 and 20 years and novice, senior and masters. The second round will be the following Sunday morning and will be for boys and girls under 9, 11, 13, 15 and 17 years. Boys and girls can run in their own age group on one day and move up an age on the other day to get in some race practice.
Juvenile club and County teams for the Leinster Championships will be picked after both rounds. There are two weeks between the Leinster championships, so juvenile athletes run in their own age groups and can also move up an age group to make up teams. We expect all juveniles will compete in both rounds of the Westmeath championships or they might not be selected for teams. Remember, the Athletics Westmeath Cross Country is an open competition and you don't have to be a member of a club to take part.
Fit 4 Life returns next week
A new Fit 4 Life programme begins next Monday at 7pm at the club grounds and runs for 10 weeks at a cost of €40 per person. Fit 4 Life is an Athletics Ireland programme for all runners, whether a complete beginner or a regular jogger or runner. The programme helps participants to achieve improved levels of fitness and wellbeing within the club structure in a fun and sociable environment. Fit 4 Life is for all abilities and participants will be grouped by ability for training sessions, allowing runners and walkers to train at an appropriate level. There is progression from walking to jogging to running and no previous experience is needed. Qualified coaches will support everyone who wishes to improve their fitness levels and build up to running a 5k non-stop at the end of the course on the all-weather track. Registration is at the club grounds from 6.45pm on Monday but don't worry if you can't make the first night, you can join up any Monday after then too.
Road Safety
A reminder, that with the evenings now starting to draw in, all club members must wear reflective clothing when running on the road. That includes all who use our club grounds and who run from the clubhouse on training nights. Safety is a must at all times.
Check the club website at mullingarharriers.com or the Facebook page for more news.