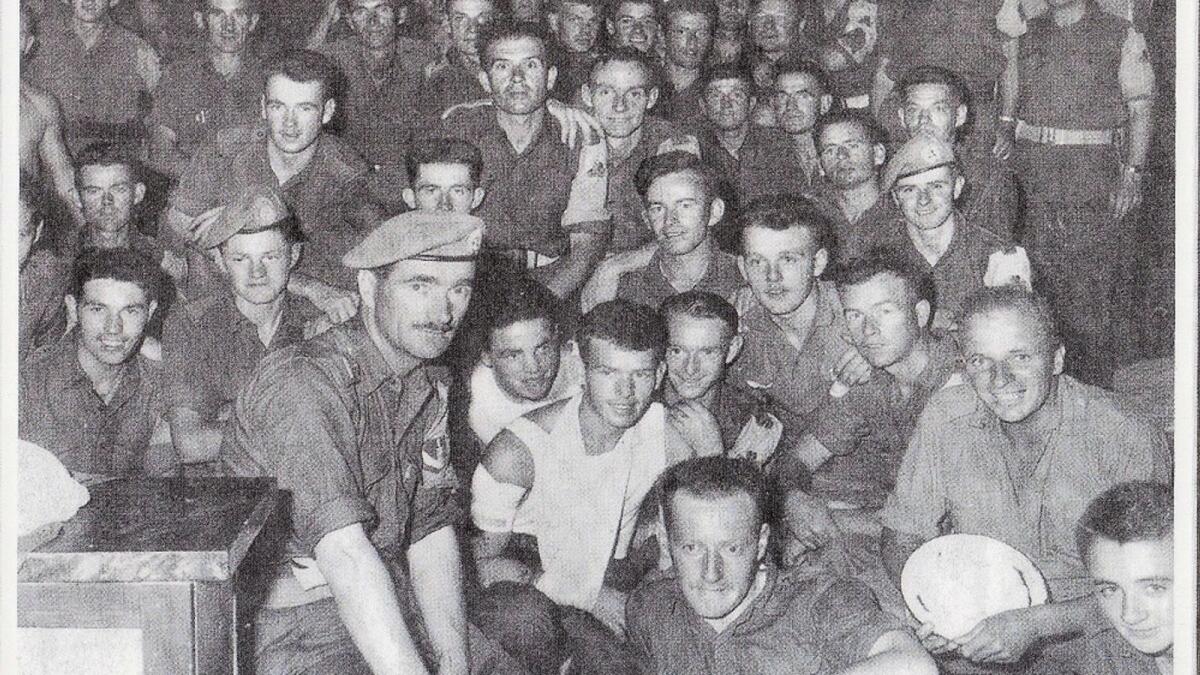 Podcast shares 62-year-old voice messages from Jadotville troops
A recording of the voices of Irish soldiers, many of them from Westmeath, made while they were prisoners of war in The Congo in 1961, has been released on Podcast, 62 years later. 'Voices of Jadotville' captures how the soldiers sought to assure worried relatives at home that all was well.
The recording features many from Mullingar and surrounding areas. The first soldier featured on the recording is Corporal Sean McEntee from Mullingar, who sent love to his wife Joan and family, to Olive and family, Annie and Mick, Paddy Gavin and family, and all the friends. "Send my love to mother. O'Connor sends his regards. Also give my regards to Kathleen McNamee, and the officers and NCOs in Columb Barracks. Is the CS keeping his tank full of petrol? Goodbye, all the best," he said.
Corporal John McAnany sent greetings to his wife Pauline and family at Cathedral View. He assured them that he was keeping "fine" and being well cared for. He said hello to Tony and Paul and assured them that he did not forget their birthdays and that "we will have another one when I get home". He said hello to Rosemary and Kathleen and all his friends.
Corporal Billy Allen sent greetings to his wife and family in Drumcree and assured them they had nothing to worry about. "Hello Seamus and Terry, this is daddy, I hope you are good boys and not too much trouble to Ma and that ye are going to school every day. Goodbye and God bless," he said.
Gunner Billy Heffernan said hello to his "darling wife" Maisie. "Keep smiling, keep your chin up and no worrying," he told her. To his darling children Mary, Eddie, Patrick, Bridie, Gerard and Carmel, "hope yous are all doing well at school". He said hello to Colonel Harrington and Captain Donnelly and all the officers, NCOs and men at Columb Barracks, "not forgetting the BMW staff".
Colonel Joe Duff, cook, said everything was all right with them and they were getting fed well and being well looked after. He sent his love to his wife and children and said he hoped to see them "real soon".
Colonel John Peppard sent greetings to his wife Eileen and family, Conor and Eileen, and all the officers and NCOS in Columb Barracks with the hope that he would see them in December.
"Hello Ma," said Col Pat Dunleavy, who also sent greetings to Ita and Anne. He said he was having a good time, keeping well and being well fed and there was no need to be worrying. He sent greetings to all in Columb Barracks and to Michael Reynolds and the Coffey family. He too hoped to be home for Christmas.
Private Daniel Hegarty sent best wishes to his parents, brothers and sisters, hoping they were keeping well. "We are getting on great out here, no need to worry over me," he told them. He sent his regards "to all the people down the lane" and all in Columb Barracks.
Private Noel Graham sent greetings to his mother, brother and sisters and all in Columb Barracks, "hoping to see you all soon".
Gunner Jim Scally sent his love to his mother and Rosaleen, and his girlfriend Margaret. "Hope yous are all well and not worrying over me," he said.
Gunner Thomas Cunningham said hello to everyone in Ballinea and all in Columb Barracks. He said he was "having a wonderful time".
Gunner Thomas Gunn, who received the wonderful news the previous day that his wife had presented him with a beautiful baby daughter, sent greetings to his wife Teresa at 7 St Brigid's Terrace, Mullingar. He was glad she and the baby were doing fine and sent his love.
Corporal McEntee sent messages on behalf of Private Thompkins and Private Murray "who are too shy to come to the tape". He said Private Thompkins was keeping well and sent his love to his wife and family. Private Murray sent his love to his wife and "the boys in the barracks".
The podcast was compiled by Leo Quinlan, an Athlone native who was 16 years of age when his father, Commandant Pat Quinlan, led the men of 'A' Company during the conflict in the Congo. At the time, Leo tape-recorded voice messages from the soldiers' families in Athlone, which were sent out to the Irish soldiers via the Red Cross.
After Commandant Quinlan played the families' messages to the soldiers, he recorded over the tapes with messages from the soldiers to be sent back to their families. Those messages form the basis of the podcast.
Some of the recordings are slightly distorted, but overall the quality is "not bad from 62-year-old tapes", as Leo Quinlan put it.
The first of the historic messages featured was recorded not in the Congo, but in Athlone, and it's the voice of Col Joseph P Emphy, OC Western Command, who recorded a message for Comdt Quinlan and his men from Comdt Quinlan's home.
Command OC
"Hello Pat. This the Command OC speaking. I'm speaking from your own sitting room, with Mrs Quinlan sitting beside me. I can also say that I've seen all your family and they're all in the pink, so to speak. You needn't worry," he said.
"You'd be surprised at the amount of publicity you and 'A' Company have been getting in the papers. You're a regular hero around these parts. I know I speak for every officer, NCO and man of the Western Command that we are all intensely proud of you and of every member of 'A' Company for the splendid show that you put up in Jadotville."
His message concluded: "From all of us in the Western Command, to 'A' Company of the 35th, well done! We are proud of you, and we wish God's blessing upon you all."
Commandant Quinlan is then heard, with a message designed to comfort the families at home. "I want to take this opportunity to assure the wives and the children, the fathers, mothers, relatives and friends of all the men here that everyone is well.
"As a matter of fact, they couldn't be better, and the morale is as high as it ever was. These men are indomitable," he said.
"Don't worry about us, we're being well-treated here. Keep your heads and your chins high, and be proud of the brave men that are here. Ireland has brave and good men, but none better than your husbands and your sons who fought here in Jadotville. We're all very sorry for the terrible anxiety we must have caused you in the last couple of weeks. I'm sure that it was much worse for you than it was here for us".
"I'm sure you're all wondering what happened us in the end. Well, the full story will have to wait. All I wish to say here is, we won the battle, but I'm afraid we lost the ceasefire".
The Siege of Jadotville is now widely regarded as one of the greatest military achievements in the history of the Irish army, but when the men returned home after spending a month as prisoners of war, their reputations were tarnished for surrendering.
After years of lobbying, the soldiers were awarded specially commissioned medals, An Bonn Jadotville. However, after they returned home in 1961, their leader, Commandant Quinlan, had recommended that 27 of his men be awarded Distinguished Service Medals and five the Military Medal for Gallantry, the highest honour a member of the Defence Forces can receive.
September 13 last was the 62nd anniversary of the start of the Siege of Jadotville in which more than 155 Irish peacekeeping troops came under attack from Katangese forces. The Irish soldiers were in captivity between September 17 and October 25, and the recordings in the podcast were made in late September 1961.
The 'Voices of Jadotville' podcast was released through Moral Injury International, a group that was formed in recent years and arose from "an examination of the after-effects on Irish veterans and their families" following the Siege of Jadotville. You can listen to the 'Voices of Jadotville' podcast on Spotify.