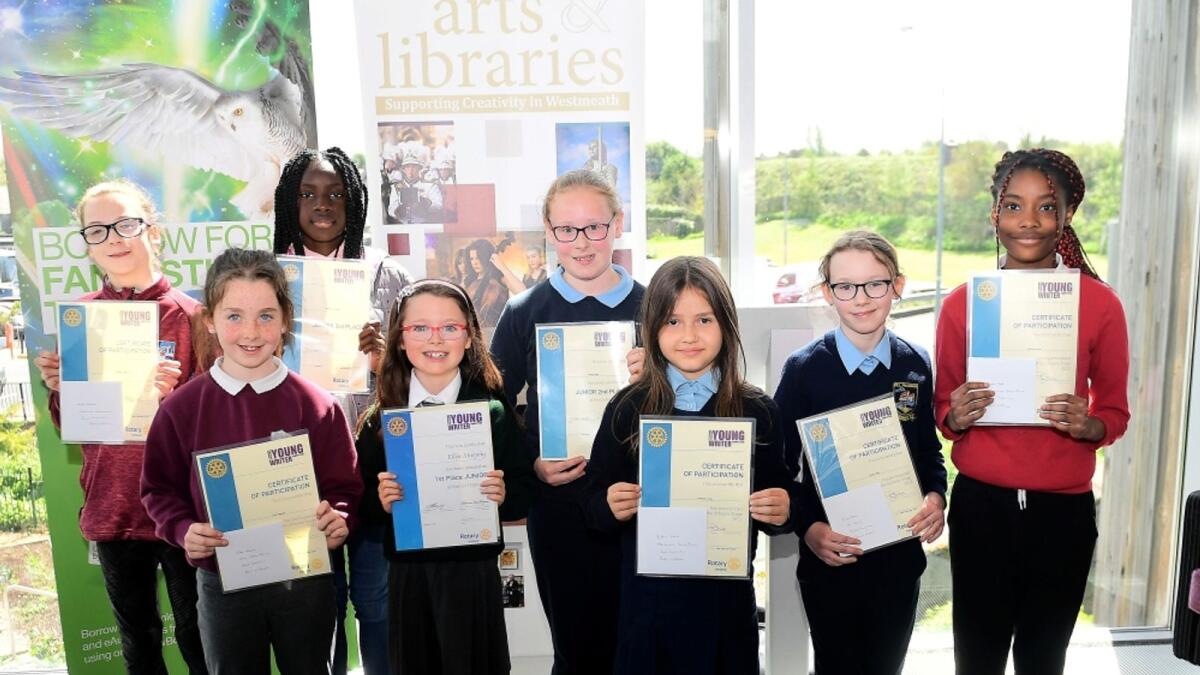 Mullingar primary children triumph at Rotary Young Writers Competition
A prize-giving ceremony was held in Mullingar Library on Tuesday May 10 to award the winners of the 2021-2022 Rotary Young Writers Competition. Organised by Mullingar Rotary Club, eight schools in the Mullingar area took part. The overall winners from Mullingar, in the Junior and Intermediate categories, went on to national success.
Ellen Murphy, a student at St Colman's NS, came first in Ireland at Junior Level for her story, 'Betty the Bird Saves the World'. Chloe Cosgrave of Gainstown National School came second in Ireland in the Intermediate Category with her poem, 'Under the Yellow Sun'.
On the judging panel were Dónal Lawlor, president of Mullingar Rotary Club, Ciara O'Hara, a children's book editor, Jemma Curran, a playwright and children's drama facilitator, and Jack O'Sullivan, an environmental scientist and former teacher.
The theme of the competition was 'The Environment'. Almost 30 entries were submitted in the Intermediate Category and almost 50 entries in the Junior Category.
"All four judges were really impressed by the quality of the writing and the awareness of environmental issues shown by all the winning entries," said Mr Lawlor.
"The standard was incredibly high, and it made our decision making as judges quite difficult. It was wonderful to see Ellen and Chloe go on to further victory at a national level, but all of the winners should be extremely proud of themselves."
Ciara O'Hara, chairperson of the judging panel, said: "There was enormous variety across all the entries. We received short stories, poems, and nonfiction essays. We saw time travellers and talking trees, shape-shifters and endangered species, elves, robots, Greek gods and even Michael D Higgins made an appearance!
"Despite being different to each other, the winning entries all had a few things in common; an excellent command of English, an appreciation for the natural world and a powerful message about how we can all protect it."
Prizes were awarded for first, second and third places in the junior and intermediate categories. There were also prizes for student who won best in their schools. Certificates of participation were awarded to everyone who took part.
Those who placed first, second and third in each category and Best in School also received vouchers for Just Books in Mullingar.
The National Winners, Ellen Murphy and Ellen Cosgrave, received special certificates and cash prizes.
The library was an appropriate venue for the award ceremony and as Mr Lawlor mentioned, the winners might one day have their own works included among the books there. "We hope all our winners keep writing and we hope to see them again in next year's competition," he said.
Congratulations are extended to the following winners:
Junior Category (age 7-10): first place, Ellen Murphy, St Colman's; second, Amy Lucas, Gainstown; third Mofesola Ogunleye, Educate Together.
Best in School: Kayden Daltún, Gaelscoil an Mhuilinn; Zara Heavy, Holy Family; Rebecca Lungu, Presentation Junior School; Victoria Sane, Presentation Senior School; Fiadh Carey, St Kenny.
Intermediate Category (age 11-13): first, Chloe Cosgrave, Gainstown; second, Jack Conlon, St Colman's; third, Jennifer Nic Fhloinn, Gaelscoil an Mhuilinn.
Best in School: Vistoria Zalewska, Educate Together; Amanda Gudaityte, Presentation Senior School; Caitlín Donoghue, St Kenny NS.