Emotions high as Ukrainian refugees perform at the fleadh
History was made in Mullingar today as members of the Ukrainian refugee community took to the streets and performed their native songs as part of the Fleadh Cheoil celebrations.
People gathered at Market Square this afternoon to welcome the Ukrainian people and to enjoy their musical performances.
The event was organised by Mullingar man, Matt Nolan, who is familiar with the refugee community in the town.
Matt's idea to include the Ukrainians in this year's fleadh festival sparked when teaching them English during his weekly classes at Áras an Mhuilinn.
He said: "I got to know quite a lot of the Ukrainian people that are living in Mullingar through the classes and I felt that it would be a nice thing if we had them here at the fleadh.
"It's different and something new and they are now a part of our community so I think it's important. I think it went really well and I think the crowd liked their performances."
The group of Ukrainians gathered together and held their nations colours high in the sky.
Many wrote the name of their home town on paper and held that for the crowd to see.
A refugee member named Obi emotionally addressed the horrible situation in Ukraine before he thanked Mullingar and the entire Irish nation for the support shown over the tough five months.
He said: "You did not leave us alone. You gave us shelter, you gave us hope and you gave us love and you did it at your own expense. Thank you."
The first performance was by Tyra Ojimadu who sang a beautiful song called 'Hallelujah'.
Svetlana followed with a poem that she wrote for her country in her native language.
She was joined by two young girls who re-read the capturing poem in English.
They said: "My Ukraine, my motherland. We are united in any situation because we are Ukrainians and we are a united nation. We are not afraid."
The heartfelt performances continued on the square and more and more fleadh visitors gathered to watch.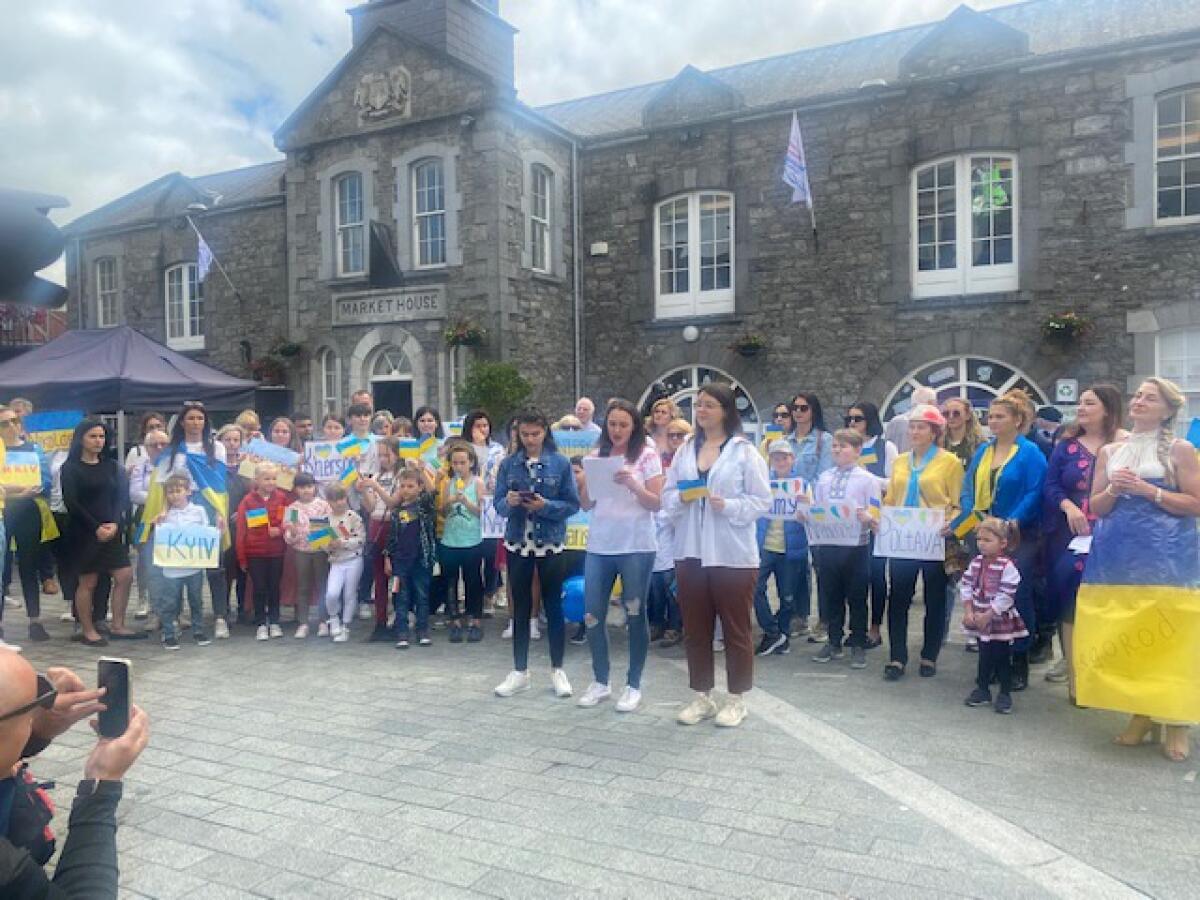 The next three songs were performed by both Tyra Ojimadu and Viktoriia Hurska.
Those songs were also sung at the Eurovision song contest by Ukrainian musicians over the past few years.
Viktoriia is 26 years old and originally from the Ukrainian capital, Kyiv.
She said: "There's been 161 days of war. For the first time in Mullingar, a small town in Ireland, songs in the Ukrainian language were played.
"Our self-made choir of 50 people, among whom were mainly women, pensioners and children, faked the most familiar melodies but did it as sincerely as ever."
Another young woman stood and sang an original song written about her brother who was killed in her home country during the war. The song was called, 'I remember'.
She told the crowd what her song meant and through Obi who translated, she said: "It is about enjoying every moment and being grateful for all that you have now.
"Live your life well today and don't postpone things that you want to do."
Ardstiúrthóir of Comhaltas, Labhrás Ó Murchú spoke at the end of the group's performance and said: "We share your sadness and tears but we also share your hope and pride too.
"Your story is our story.
"What struck me most was when I saw a young person hold a Ukrainian flag in one hand and in the other, the flag of Ireland. That is the message that goes out from here today."
Labhrás Ó Murchú welcomed Uachtarán Comhaltas Ceoltóirí Éireann, Eamonn Ó hArgáin and members of the fleadh committee to present the group with a medal of solidarity as a gift from Comhaltas Ceoiltóirí na hÉireann.
It was an emotional but very special event for all involved.