'Everything here is good and people are very kind'
Previous
Next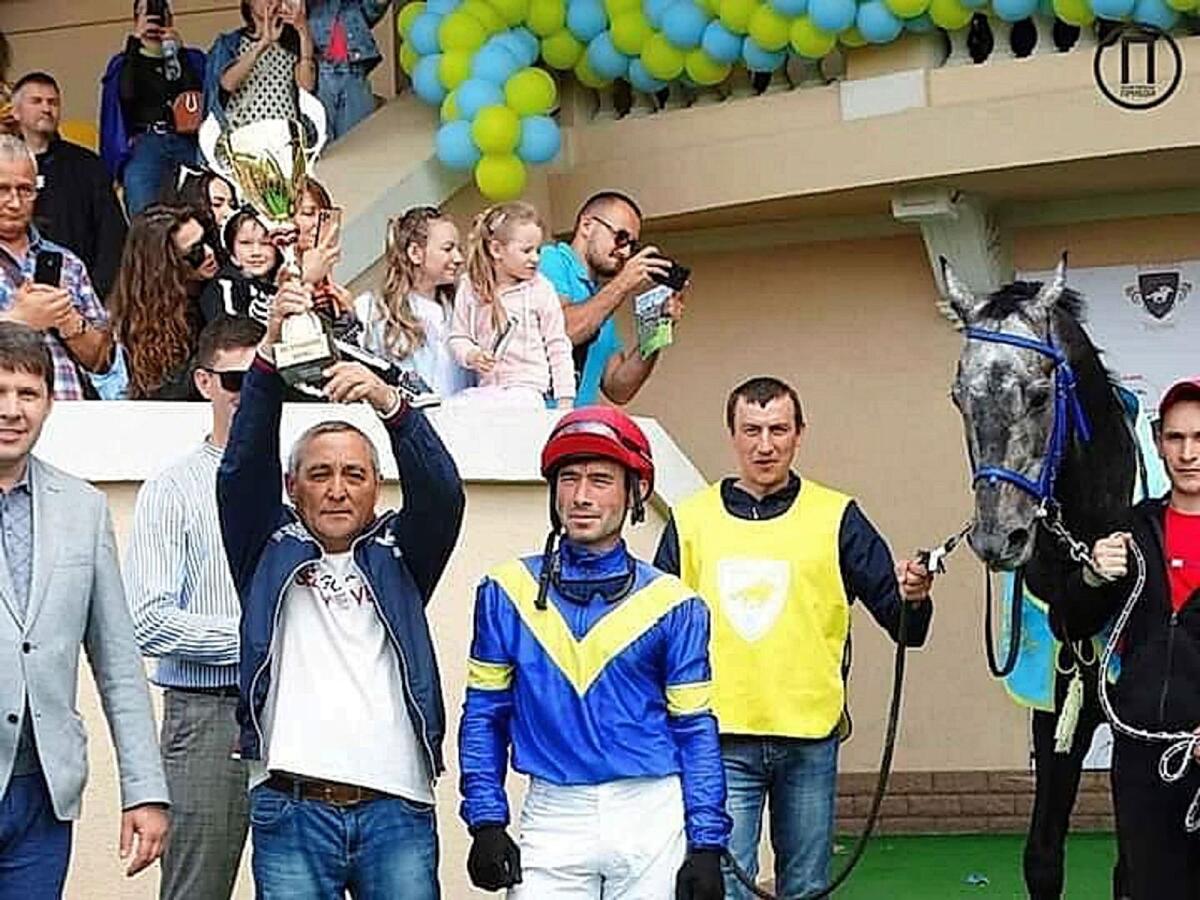 He has gone from being one of the most respected and successful trainers in Ukraine to a stablehand in Ireland, but a grateful Mikhtat Yahiaiev says being around horses helps take his mind off the events of the last year and the destruction wreaked on his home city of Mariupol by the invading Russian army.
In his homeland, Mikhtat was one of the key members of staff at the Millennium Konnyj Zavod stud farm, one of the largest in the country and one that sent animals across the world for breeding, including to Ireland and UK.
A successful jockey for 25 years before he made the transition to champion trainer, today Mikhtat and his son Arthur, who followed his father into the equine world, are working at Gordon Elliot's stud farm in Longwood, a relatively short drive from their home in Raharney.
Mikhtat, his wife Nataliia, Arthur, daughter Radmyla and Arthur's wife Margarita fled their home on May 1 last year, more than two months after the Russian siege of the strategically important Mariupol began.
It's been estimated that during the siege, which started on February 24 and end of May, when the invading forces gained control, at least 95 per cent of the buildings and infrastructure in the once thriving coastal city were destroyed.
With Radmyla and Margarita both pregnant with their first children and the battle for the city intensifying, the Yahiaievs were left with little option but to leave what before the conflict was their middle class life and join the tens of thousands of Mariupol residents that fled the daily bombardments.
Speaking through an interpreter, they say they chose to come to Ireland and Westmeath in particular, due to the positive reports they had received from a family friend who has lived locally for two decades.
"Our friend advised us that Ireland would be a good place. The people are nice. The atmosphere is good and we would get support."
The family spent the first three months at the Maple Court complex in Castlepollard along with around 60 other refugees, most of who were from the Mariupol region.
A day before Margarita gave birth to her son Daniel on August 13, the extended family left their comfortable, but cramped shared rooms in Maple Court and moved into their current home, a farmhouse near Raharney, owned by the Coyne family. A little over two months later, Radmyla and her husband, also called Arthur, welcomed Nicole "our Irish baby" into the world. Arthur remained in Mariupol when the family left last May and came to Ireland for his daughter's birth.
The owner of a shop, he subsequently returned to the now occupied territory as he has number of elderly relatives, who, like many of their countrymen and women of the same generation, do not have the energy or desire to leave their home country.
For now, the young family make do with regular video calls and while it is undoubtedly hard, Arthur is relieved that his wife and daughter are safe in their new home in Ireland.
Mikhtat and Arthur got their jobs at Elliot's stud around eight months ago through one of the volunteers who taught English at Maple Court.
It could be seen as a significant drop in status for both men given their successful careers as trainers and jockeys in Ukraine, but they enjoy being back in a world that have been such a huge part of their life for so long.
For Mikhtat, in particular, a lack of English means his interactions with his colleagues are limited, but speaking to the Westmeath Examiner when we visited their home as part of our coverage to mark the first anniversary of the Russian invasion, he said being around horses has helped keep his stress levels down and gives him something to do during the day.
"He [Gordon Elliot] is a good trainer and it's a good team. Thanks to them I get to work in my field," he said.
Another thing that keeps him on an even keel is holding his young two young grandchildren when he gets home in the evening. The last year has been unimaginably hard for the family, but Daniel and Nicole have brought some much need light into their world.
Radmyla is busy improving her English, while also passing on what she has learned to her parents, who, unlike, their children did not study English when they were young.
The young mother has a pharmacy degree and would eventually like to find work in her chosen field when her English is at a higher level. Until then, she plans to get a job in beauty therapy.
Like many parts of rural Ireland, internet reception at their home is patchy, but Mikhtat and Radmyla use their phones to keep up to date with what is happening in Ukraine and to stay in touch with relatives there, including Radmyla's husband and Nataliia's sister and cousins. For Nataliia, reading news reports about the war is too upsetting.
The family lived in the centre of Mariupol, a bustling port city that pre-war had a population of 450,000. Their family home and those of their neighbours were badly damaged during the Russian assault. Many homes were also looted when the Russians seized the city in late May. Unsure of what remains of their home and the possessions they were force to leave behind, the family are choosing to focus their energies on the here and now with an eye to the future.
Grateful for the warm welcome extended to them by Ireland and, in particular, the Coyne family, the Yahiaievs want to repay their host country by setting down roots and making a contribution.
"We see our future here. Even when the war ends, it will take a long time for Ukraine to get back to normal especially Mariupol. Everything here is very good and [people are] very kind," Radmyla says.