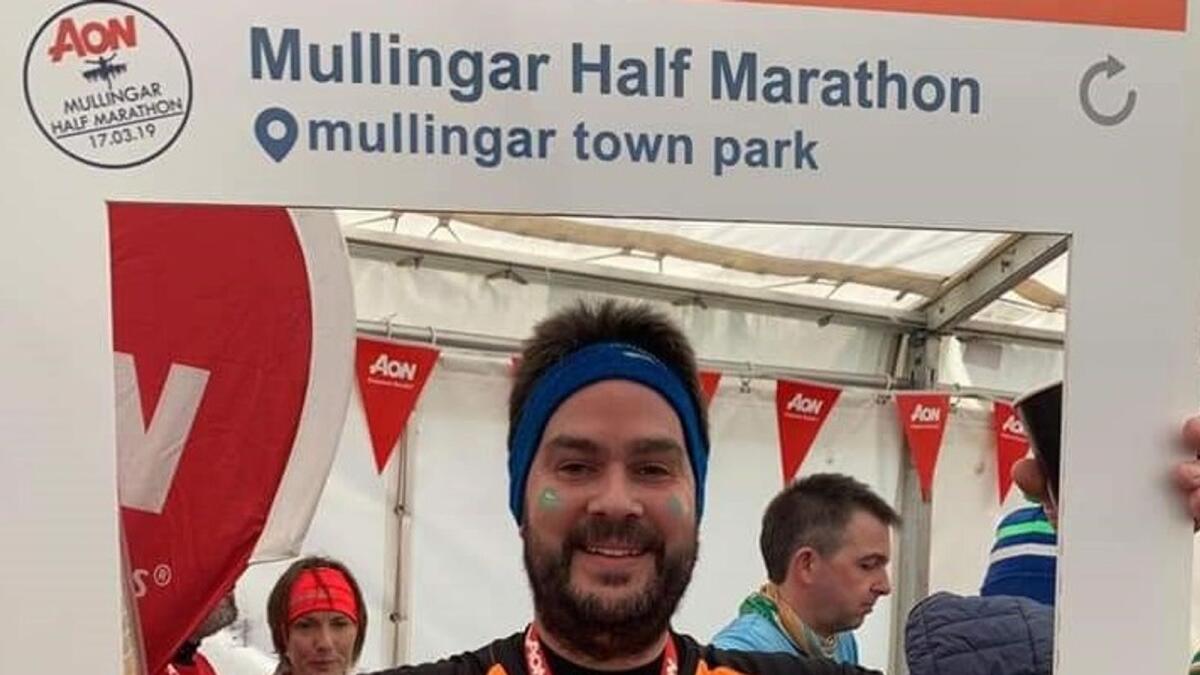 Running Matters - One:2:One with Kevin Reihill
By Martin Lyons
This week I'm interviewing a Cork native, now well and truly converted Westmeath man. Kevin Reihill began running after his time playing hurling with Turin GAA club ended and he started generally feeling unhealthy.
Running also suited his schedule and learning about inspirational figures such as Gerry Duffy whetted his appetite.
A character on the local running scene, Kevin has many more running goals left, including a big city marathon and a few PBs, and if his attitude and determination up to now in anything to go by, he'll be as successful as he has been up to now.
Name: Kevin Reihill
DOB: 30-05-1978
When did you start running and what motivated you take it up?
I started running in November, December 2012, having finished hurling with Turin, and I was beginning to get unhealthy and unfit.
I began looking for a new sporting activity, one I could engage in when and where I wanted due to a busy work schedule and family life.
I soon found with running that I could choose when and where I pulled on my runners and when I went out for a run, as opposed to sticking to schedules or timetables. Around that time, I began listening to interviews with Mullingar man Gerry Duffy and began reading his books.
Gerry was a huge motivation for me and his exploits at that time were both inspirational and mind blowing.
If you have not read it 'Tick, Tock, Ten', it is a must read for anyone looking for motivation in sport and in life in general.
What is your favourite and least favourite type of training and your favourite race distance?
My favourite type of training would be long, slow runs with groups of like-minded people who you can talk and run with and enjoy the countryside.
I really dislike sprints, specifically those around the town park in Mullingar when you spend your time being lapped by Evan McCormack and beaten on the line by Ger 'last lap' Heraty!
Having the company of Jim Rock, Christopher Cribbin and Collette Charles always made it more enjoyable.
I've also really enjoyed longer runs like half marathons and I recall the Athlone Half Marathon in 2016, when Alan Leech and I spent much of the race talking GAA and running!
I have to give a shout out to John McKenna who practically carried me along the long canal in last year's Mullingar half, when I was struggling with both injury and fatigue.
What running achievements are you most proud of and why?
I'm most proud of my first marathon, in Cork in 2015. I had completed my long runs for the event mostly on my own around the roads of Turin, Collinstown, Fore and Castlepollard early in the mornings, often setting out at 5am.
I combined this with speed and endurance training with Maurice Looby Fitness and a fantastic Wednesday morning group, where we set out and finished up in Tri & Run in Mullingar with a cuppa courtesy of Doherty (that shop is missed by all runners around Mullingar).
To complete my first marathon on my home soil and in front of my family and friends in Cork in a time of 3:45 will always live with me and is my proudest running moment.
List your current PBs for the following distances.
5k: 21:05, 18 May 2014, Turin GAA
10k: 47:14, 4 February 2015, The Downs GAA 10K
10 Mile: 1:16:48, 28 December 2015, Ardagh 10 mile – not to be repeated that is one tough hill!
Half marathon: 1:39:21, 17 March 2016, Mullingar Half Marathon
Full marathon: 3:45:47, 1 June 2015, Cork Marathon
How have Covid-19 restrictions affected your training or racing plans?
I have struggled with injury in the last year (plantar fasciitis) and am slowly getting back into my running. I completed the Lough Lene Gaels 5K in January 2020 and was left for dead by my 11-year-old daughter Muireann (who finished first female U18 – one to watch!).
This highlighted how much work I have to do to return to the highs of my runs a few years back. I took up more cycling with my wife Aoife and our four girls during Covid-19 and have also returned to gym work – however, I am now recently back running with a smile on my face and injury-free.
What advice or training tips would you give to anyone who is now looking to take up running?
Start off slowly by going for a few short, slow runs without a watch, time or even distance in mind. Keep building it up, but continue to feel comfortable, happy and feel like you are enjoying your runs. There is no better feeling than having completed a long run in the rain, snow or sun.
What are your lifetime goals and/or PBs.
I would be delighted to break the 20-minute barrier for 5k, 45mins for 10k, 1:10 for 10 mile, 1:35 for half marathon and 3 hour 40mins for a marathon.
Although these are all achievable, I hope to just be back enjoying my running.
I also love to complete challenges and have completed three 5K a day for 30 days during December, 100 miles in a month for Mather Hospital and also completed 122 days of no less that 5K a day from December 2015 to April 2016.
If the opportunity ever arose, I would love to complete the Boston Marathon having spent seven months working there in the past, it would be great to go back and run around a beautiful city that I spent all of my time driving around!
What is your favourite post-race meal?
A big hot bowl of west Cork seafood chowder, it goes down a treat!